If you missed the hype train, TikTok's the number one platform, with over 1 billion users actively looking to discover new brands.
If your brand could do with a rise in followers, TikTok should be your first stop.
Not convinced? 49% of TikTok users go to the platform to discover something new, so whether you're showing off your latest product or changes to your brand, TikTok's the place to shout about it.
If you're looking for the perfect strategy that will take your brand to the next level, you're in the right place.
We recently had the pleasure of hosting a bite-size session with Brighton Chamber, a company connecting the local Sussex business community, where we covered how to supercharge your business with TikTok.
If you missed it, it's time to catch up! Let's recap the strategies we discussed in the session and answer some FAQs.
Change your perception!
When you think of TikTok, do you immediately think of teenagers making dances? Well… yes, you're correct.
Teenagers are on the platform, making up the majority of users. But it might surprise you to find out that 53% of users are over the age of 30, and the 40+ cohort makes up 20.3% of users, so the demographic of the platform is shifting.
Whatever demographic you are trying to target with your marketing strategy, you'll find them on TikTok.
What's more, using appropriate hashtags will help you get in front of your audience. But first, you'll want to do some digging into what they typically tune in to watch on TikTok – that'll help inform your content strategy!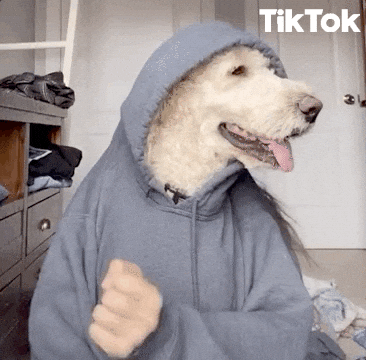 TikTok V.S the World
YouTube (just like Instagram and Facebook) is treading water, trying to catch up with TikTok's innovative features.
For example, YouTube launched 'Shorts', short-form videos that users can scroll through straight from the YouTube app or website. That sounds pretty similar to TikTok's uber-popular video format, right?
Meta's also playing catchup, with Instagram Reels posing as a major rival.
I'm already on Instagram; should I be on TikTok too?
Let's discuss the elephant in the room: What is the difference between Instagram Reels and TikTok – are they the same?
Truth is, they're pretty similar, meaning you can almost directly transfer your TikTok content to Reels, allowing you to populate your Instagram alongside your TikTok account.
However, don't be mistaken thinking they're on par; some key differences make TikTok superior:
Recording limits – TikTok allows up to 3 minutes vs Reels' 60 seconds.
Following – TikTok's following is growing more rapidly than Instagram. Since 2010, Instagram has accrued 1.386 billion followers, whereas TikTok joined the game later in 2016 and already has 1 billion followers.
Content – TikTok's rough and ready creative tops Instagram's super-refined approach, making it easier for you to knock out content without a team of creatives behind you.
TikTokkers will be your biggest brand ambassador
Everyone on TikTok is a content creator; with over 3.1 million influencers on the platform, it shouldn't be hard to find an influencer for your brand.
Don't be mistaken; you don't have to spend thousands to have Zoella show up in your videos, but you will benefit from a familiar face recurring in your videos.
Micro-influencers gain greater engagement on TikTok compared to other platforms. With 17.96% engagement on TikTok versus 3.86% on Instagram and 1.63% on YouTube, this makes TikTok's influencers accessible to brands of all scales.
TikTok users do away with the linear marketing model
No longer is the marketing funnel linear; awareness, consideration, conversion, loyalty and advocacy have been blown out of the water by the recent boom in influencers.
Nowadays, TikTok users are happy to pop items straight into their baskets upon receiving a glowing review from their favourite influencer.
It's easier than ever to grow your brand on TikTok through micro-influencers and ambassadors. By leveraging the following of those who already love your brand, you'll be able to tap into your customer's followers, too.
According to TikTok, after a purchase:
1 in 5 make how-to or tutorial videos on TikTok.
1 in 4 posted showing off a product they bought.
28% followed a brand.
Engage with your brand advocates to create content that resonates with your audience – simple!
Spark joy
Yes, in the words of minimalist Marie Kondo, we advise that you create content that sparks joy.
That's because 39% of users say 'lifting spirits' is vital in making purchase decisions. It's no secret that we've all dreamed of a little escapism since the Covid-19 pandemic.
People used social media as an escape from the negativity around them, expecting online videos to make them laugh. 44% of TikTok users prefer branded content that's fun and entertaining.
Whether it's watching an influencer's island holiday break or silly videos of inanimate objects with superimposed eyes and lips, there's an audience for everyone's content!
The boom of the metaverse exemplifies our desire to explore an alternate reality, where people can connect and reinvent themselves as they wish, creating avatars reflecting their dream persona.
Perfection is overrated
TikTok thrives off lo-fi content; uncurated, rough and ready – which works to your advantage.
You don't need a creative team with the latest camera gear behind you to make videos that resonate with your audience; all you need to do is get on the platform!
And that's one of our best bits of advice – don't wait for the right moment to come along – start getting creative ASAP!
TikTok's weird and wonderful algorithm means anything goes on the platform. So whether you're making tutorial videos, meet the team content or just downright silly videos and dance challenges.
See what works and roll with it! Who knows, you might start your own snazzy TikTok trend!
Are TikTok ads worth it?
Yes! If you're still not convinced TikTok is a surefire way to grow your brand, then let's talk about the power of ads.
There's a variety of ad types to choose from, from disruptive in-feed advertising to native spark ads acting like normal TikTok videos; you'll find an ad format that helps you achieve your objectives.
The best way of targeting your audience is to create lookalike audiences and use interest-based targeting.
Lookalike audiences generate 55.40% stronger engagement than interest-based targeting, but if you're starting with a small amount of data, targeting users based on interest will help you broaden the reach of your ad.
Don't just focus on ads
As we said, TikTok is a platform that people love for its comedic, joy-sparking content. Nobody wants a bombardment of ads; you'll only cause ad fatigue.
Instead, create a variety of content to engage your audience and remind them of your brand, your products and behind-the-scenes content for an exclusive look at your business and team. Hard selling just won't cut it on TikTok.
The key takeaways?
TikTok is booming, and you need to get on the platform if you want to boost brand awareness and tap into all the advertising and eCommerce features that will help your profits soar.
TikTok isn't just for Gen Z; your audience is on the platform regardless of age. To make it big, you'll need to create native content that showcases your brand's personality. The best way to do that? With a brand ambassador!
Want more ideas on the TikTok content that works well and a deeper dive into the perfect TikTok growth strategy? Contact our marketing team now.