The Challenge
The ICE Benevolent Fund is a registered charity set up to support current and past members of the Institution of Civil Engineers (ICE) and their immediate families. The charity offers financial support and guidance, wellbeing workshops and webinars, career coaching and counselling, as well as specialist support for those facing anxiety or depression and those living with autism. We're proud to have worked with the charity on multiple design projects over the last year, creating materials to help showcase its work and engage more people to sign up or continue their membership.
This time, the ICE Benevolent Fund tasked us with producing eye-catching exhibition stands to promote the organisation's important work for use at various events and conferences, showcasing the services and support available to past and present members of the charity and their families.
In particular, the charity wanted to:
Raise awareness with designs that would inform people about its services and support

Create eye-catching, 'quirky' designs to encourage engagement; in line with brand guidelines and tone of voice
So, what did we do to achieve this?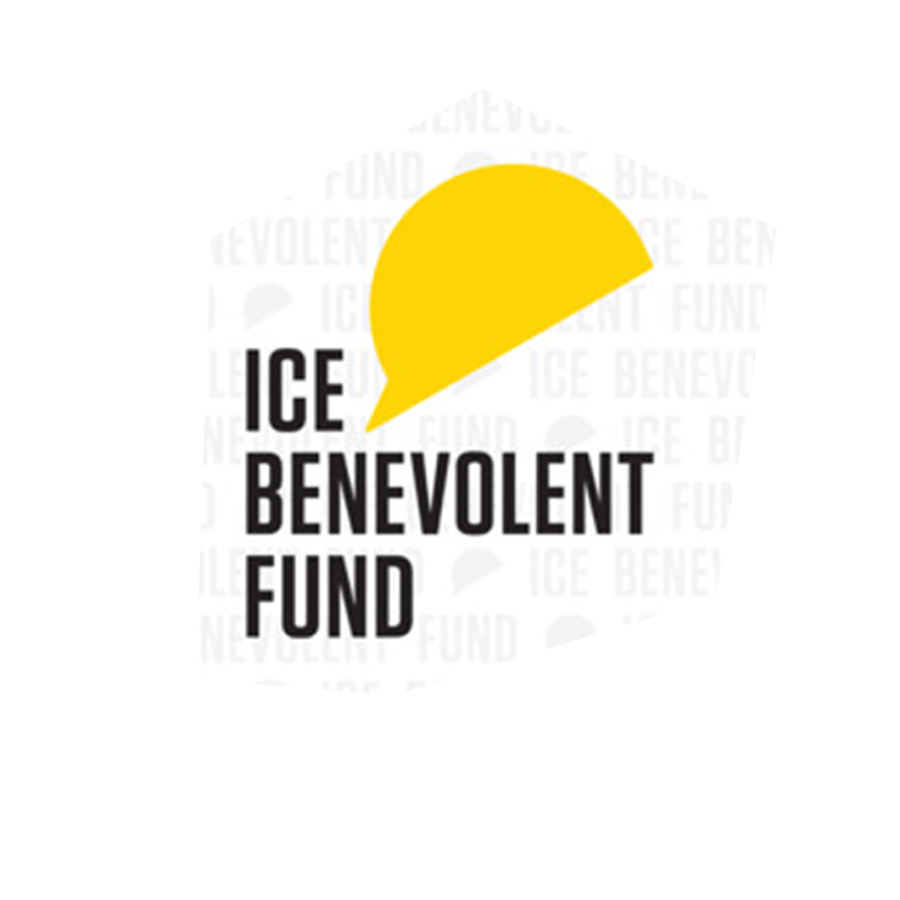 The Strategy
The ICE Benevolent Fund's target audiences are civil engineers who are, or have been, members of ICE and their families. Understanding these key groups enabled our creative team to develop a concept that would attract them and boost engagement with the charity; while aligning designs to the ICE Benevolent Fund's branding and mission.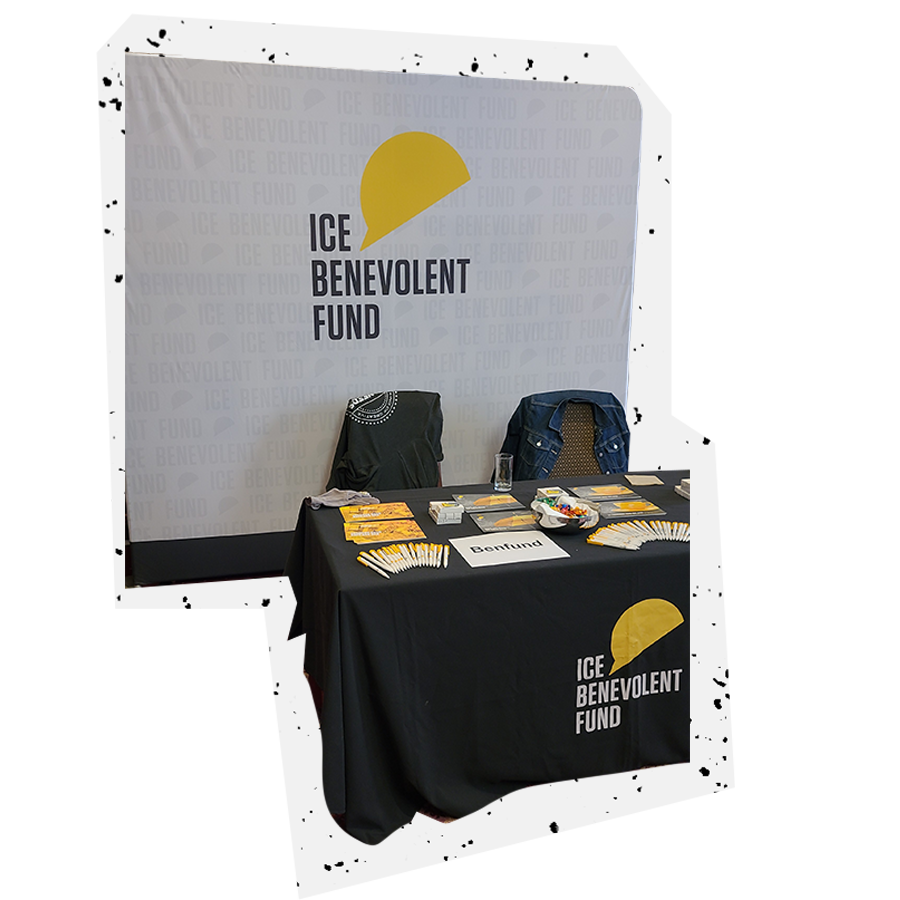 The Strategy CONTINUED
To create an eye-catching awareness campaign around the ICE Benevolent Fund's services, encourage greater engagement with the charity and ever-importantly increase donations to continue its work, we set out to create bright, bold banners. We informed audiences with the motto, 'we support people like you' and directed them to the ICE Benevolent Fund website for further information.  
An exhibition requires clear creative that can be seen across the room, and that's exactly what we designed for the charity. We tied in the ICE Benevolent Fund's branding and style to draw people to their stand and create a lasting impact. The banners turned out to be the star of the show at events, a focal point for all to gravitate towards.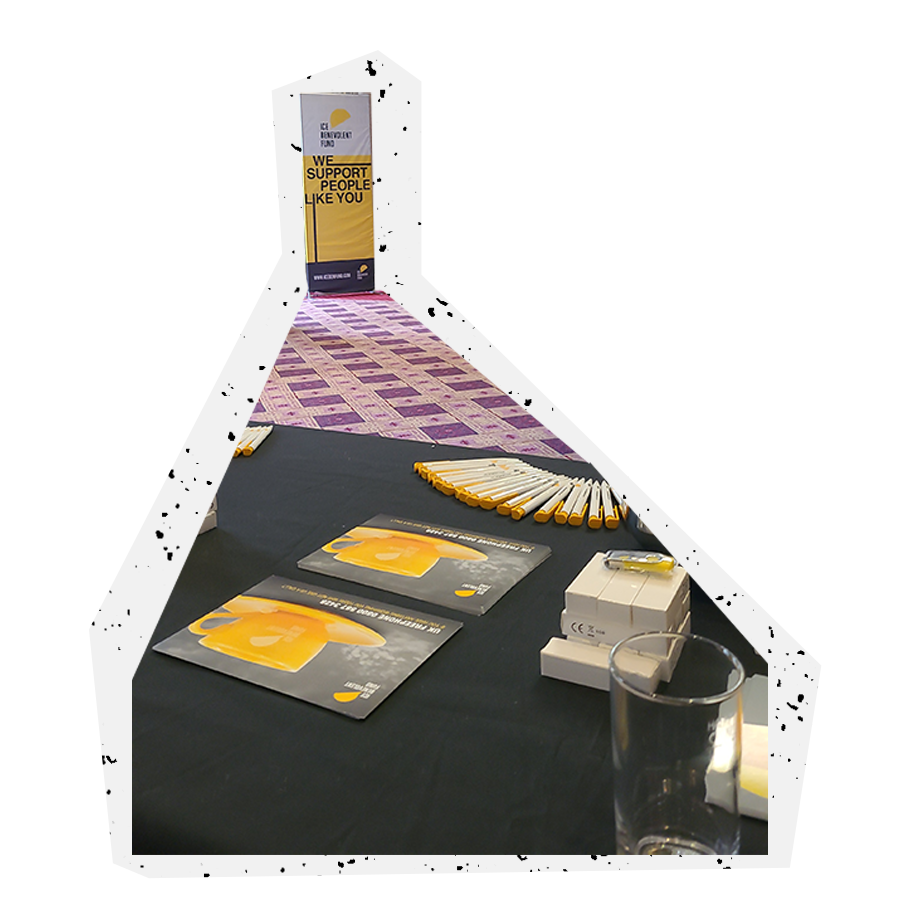 The RESULTS
It's hard to pinpoint the exact results from our creative work with the ICE Benevolent Fund, as they have formed part of wider brand awareness campaigns. However, we can give you an idea of how our creative work for the charity has developed over the course of our partnership. 
In December 2021, we created Christmas cards for the ICE Benevolent Fund. Tying in our designs with playful and thematic copy, the Christmas cards were designed to reinforce the organisation's message while extending Christmas wishes to ICE members and their families.

The RESULTS continued
Our work with the ICE Benevolent Fund has included donation envelopes, a Will services brochure and leaflets for those whose membership has lapsed. Each of these projects required a unique approach to creative, one that was sensitive, informative and engaging to read but also matched the topic. For example, the Will services brochure was a challenging topic to broach, yet we handled it with sensitivity while keeping copy light, so people were encouraged to continue reading.
Our partnership with ICE Benevolent Fund is still in its infancy, and so we continue to work with the charity to further develop and hone a recognisable, cohesive brand identity across platforms and media. We hope that this will form a key objective for our partnership for 2023, working collaboratively with our Client to support them as they continue their important work.  

Arke's designs and copy have transformed our physical collateral into eye-catching designs. We look forward to working with them further in 2023 to develop a strong "look and feel" and "unique brand"
Casework and Communications Executive
ICE Benevolent Fund
Related work