In advertising, there is always a new tool taking the industry by storm. One platform that has been making waves and capturing the attention of advertisers is Sky AdSmart.

AdSmart from Sky is addressable TV, allowing advertisers to target specific audiences at a household level. There are 9.3 million AdSmart enabled households. This means a huge 33% of all UK homes are available for addressable targeting via AdSmart, all in one place.
But what about the cost? Isn't TV advertising only for the likes of coca-cola, the big supermarkets and luxury car manufacturers? Well, we're here to debunk this, and show the unparalleled abilities Sky AdSmart has to offer.

Making every penny count:
Did you know more people spend time watching broadcaster TV than any other platform?

Sky AdSmart allows you to advertise locally or nationally with a budget as little as 3k. It's a cost-effective solution that doesn't compromise on impact. It's also a great platform for those late to the TV game, as AdSmart has over 3,600 advertisers in total, with 57% being new to TV.
Addressable campaigns on the platform can be accessible for lower budgets, but we know that when producing video there is more than the running costs of the campaign itself. But before you panic, production isn't actually as expensive as you think.

Perhaps you already have short promo clips you can cut together in house, or an agency like us could do this for you (we're pretty good at it by the way!). If neither of these options are suitable for you, we can work with Sky recommended production houses that can compete with your budget – and it's a worthwhile investment.

With Sky AdSmart, you're not just throwing your message out there and hoping for the best. You're strategically placing your ads in front of the right eyes, making your ad spend much more efficient.
Hyper-Targeting at its Finest:
Sky AdSmart takes personalisation to the next level. Through a combination of Sky's own data and third-party providers you can select which type of households will see your TV campaign. So you know it's relevant and you're not paying for households that won't buy your product or service. It allows advertisers to reach specific households based on a wide range of criteria such as demographics, location, interests, and even viewing habits.

You'll also have access to a variety of other targeting tools including:
Experian household data
Business owners and decision makers
Technology adoption
FMCG purchases
Category purchases
Demographics/household composition
Financial
Search Behaviour
Home
Vehicle Ownership
Moving Home
This means your ads are seen by the people most likely to be interested in your products or services, increasing the chances of conversion while minimising wasted impressions on irrelevant viewers. It also means that you and your neighbour could be watching the exact same programme, but served with different ads depending on what you are being targeted for! Cool right?
Viewers are also almost twice as likely to keep watching with channel switching dropping by 48% vs. non-targeted ads. Compelling ads are also more likely to be talked about. Campaigns including AdSmart alongside linear spot activity are +14% more likely to generate word of mouth. This means your ads are always in the forefront of your audience's minds and even more so in their friends and family too! So you're not just targeting individuals, but earning that extra brand awareness through their nearest and dearest as well.
Watch as the Real-Time Insights Roll In:
Sky AdSmart provides valuable data on the performance of your ads in real-time. You can track metrics like views, engagement, and even the impact on website traffic or sales. This data empowers advertisers to make informed decisions, optimise campaigns, and continually improve their strategies.

Sky Adsmart only tracks an impression if 75% of the ad is viewed in real-time. That means a minimum of 23 seconds of an AdSmart advert must be viewed at normal speed to be counted as 'viewed'. Meaning each insight is a valuable one. It also means you get the most for your budget as you are not charged until you hit the 75% mark.

Your performance is measured in detail, through brand to web to sales. Using the world's largest viewing panel, Sky can provide comprehensive campaign reporting. Through measuring brand cut through to sales on your website, all the way to offline and online sales or enquiry data provided by client or third parties (loyalty card data).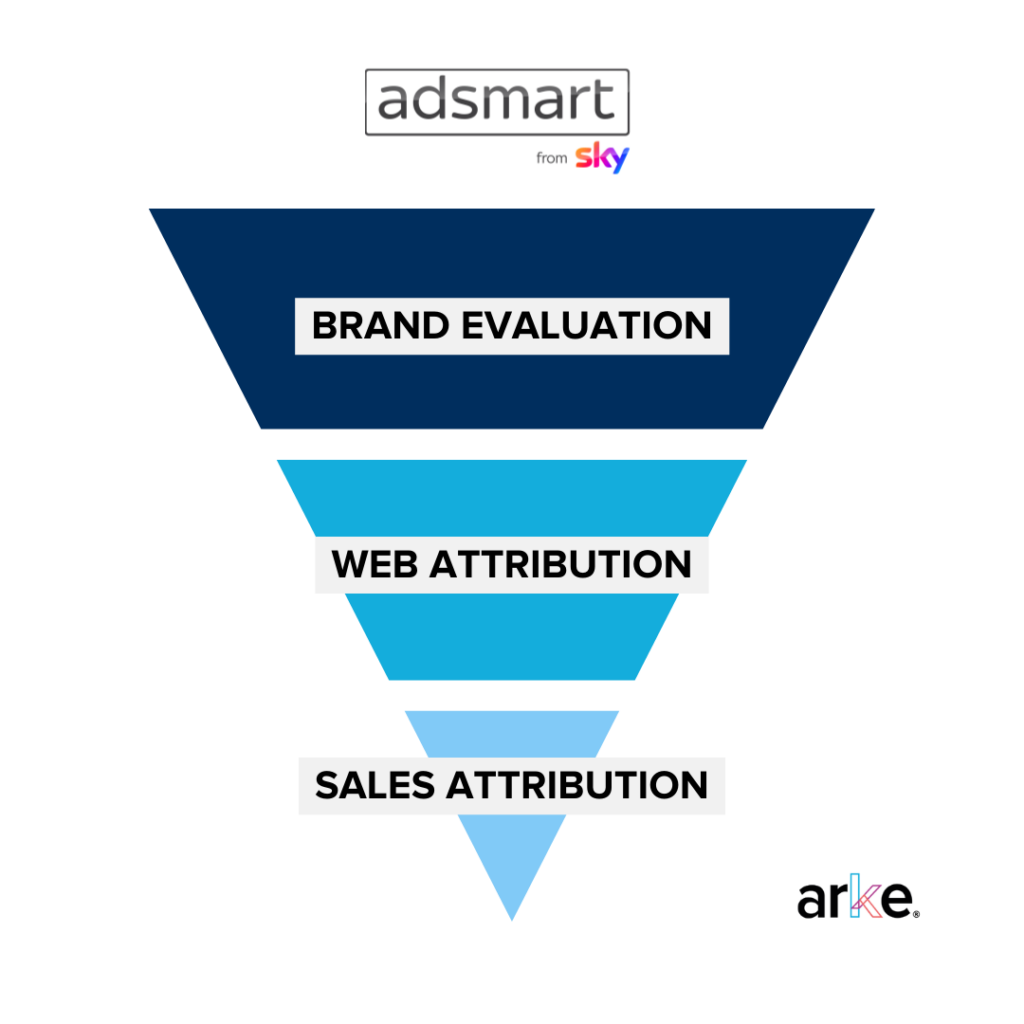 Engaging Audiences with Enhanced Creativity:
Sky AdSmart's targeted approach enables advertisers to create highly relevant and engaging content for their specific audiences. This level of personalisation allows for more creative storytelling, making your ads stand out and resonate with viewers.

With 59% of marketers saying that they will be increasing their budgets for advanced TV, including data-driven linear TV and addressable TV, it's a channel you definitely want to take advantage of.
At Arke, we can help you create an ad that lingers in your audience's minds. Not only that, but we have the Clearcast process covered, meaning you can sit back and relax whilst we do the heavy lifting.
Sky AdSmart is a prime example of the convergence of TV and digital advertising. As the media landscape continues to shift, embracing innovative solutions like AdSmart ensures that your brand remains relevant and adaptable in the face of changing consumer behaviours.
Its hyper-targeting capabilities, cost-effectiveness, real-time insights, and creative opportunities make it an essential tool for advertisers looking to maximise the impact of their campaigns. By utilising Sky AdSmart, you're not only reaching the right audience but also future-proofing your advertising efforts in the dynamic world of television and digital convergence.
Here at Arke, we can elevate your advertising using our expertise in digital TV. Take your advertising to new heights and get in touch with an Arkenaut today.