On October 14th 2020 Google announced the introduction of Google Analytics 4. This version of the much-used analytics platform is built upon the App + Web property that was released in beta 2019.
There are some stark differences in the current and new versions. Most pertinently is its use of machine learning to help bring to light insights from the data collected. It's claimed by Google that the new version of the programme is "privacy-centric by design". That is, as the collection and sharing of people's data becomes more regulated, Google Analytics will be able to fill in the information gaps.
In order to remain useful to website owners whilst increasingly reporting on less data, changes had to be made to Google Analytics.
In this blog, we're going to take a look at some of the following features and benefits of GA4 in more detail:
Improved Customer Journey Tracking
Improved user engagement analysis
More powerful audiences for your ad campaigns
More intelligent user privacy and tracking features
Simplified Goals and Events Setup
Enhanced visualisations and reporting
A plethora of parameters
---
1. You see more of the user journey
Google Analytics has really changed – and not just in how it structures its reports within the user interface. It has changed to its core. The focus is no longer on measurements that are easily fragmented by device or platform such as sessions. The emphasis is now firmly on users and their interactions – which are now captured solely as events.
This new user focus and event driven data model means you can now use a single set of metrics and dimensions to look at both web and app data, allowing more intelligent aggregation. For example, a user may visit your website on their mobile device, revisit on their desktop computer, and then download, purchase or register through your app. Google Analytics 4 gives you the tools needed to track and stitch together user journeys more accurately.
2. Analysis tools are now more focused on user engagement
As well as being able to collect and aggregate more data, Google has made it more intuitive for marketers and analysts to dig into user centric reports, by aligning report menu sections with the customer journey.
Gone are the trusty Audience, Acquisition, Behaviour and Conversion menus. In their place is a 'Lifecycle' section which divides analysis into Acquisition, Engagement, Monetisation and Retention, whilst there is now a separate 'User' section which focuses on user demographics and technology.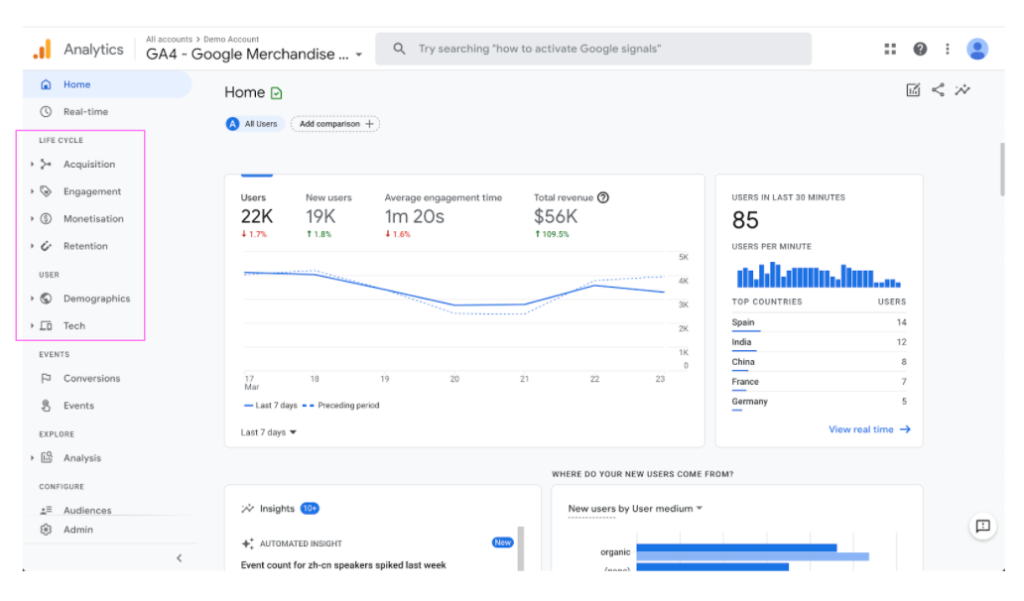 One of the best features of Google Analytics 4 is its powerful new user centric metrics and dimensions that use AI to predict customer actions and value.
Meanwhile, Bounce Rate has been done away with by Google and been replaced by some more powerful, and useful, engagement metrics. These new engagement metrics combined with the new pre-configured scroll, video, outbound clicks and file download events should enable you to get a good idea if your content is engaging or if users are engaged with the content.
3. Create more powerful audiences for your ad campaigns
GA4 comes with new more powerful measurements, and more powerful analyst tools and integrations means more powerful audiences for marketing campaigns, which means better ROI on ad spend.
For example…let's say you're a university running an ad campaign across both mobile and desktop devices, and across web and app platforms. A user comes onto your site through a browser on a mobile and fills out a contact form; they then come back through a desktop computer, using a different browser and begin an application form; they finally complete the application form using your native Android or iOS App…
Until GA4, it would be difficult to optimise ad-spend for these kinds of user journeys – not least because you would struggle to join these different device and platform journeys together. Now, if you configure your web and apps correctly, you can stitch user journeys together and avoid wasting your ad spend.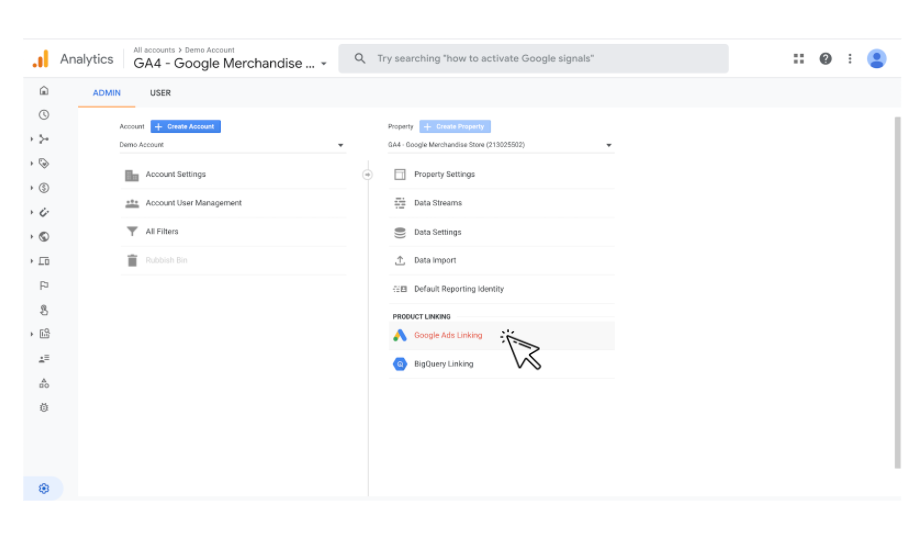 Additionally, new predictive metrics being released by Google will help to optimise those audiences even quicker and more intelligently. Google has said: "We're continuing to add new predictive metrics, like the potential revenue you could earn from a particular group of customers. This allows you to create audiences to reach higher value customers and run analyses to better understand why some customers are likely to spend more than others, so you can take action to improve your results."
4. More intelligent user privacy and tracking features
Google Analytics 4 gives you and your users more intuitive and precise control over what personal data is collected, which will help you comply with current and future privacy regulations. For example, with GA4 you can now exclude specific events and user properties from ads personalisation.
Google's new approach to analytics is fundamentally designed to be more flexible and adaptable to a future where cookies will be much less common, and where privacy will be an ever more central concern for users and regulatory bodies. GA4 uses a flexible approach to measurement, and, in the not too distant future, will include modeling to fill in the gaps where data may be incomplete.
5. Simplified Goals and Events setup
Termed 'Event Editing and Synthesis' by Google, this enables you to really hone goal tracking and get granular behavioural data with little-to-no requirement for editing code, and editing and optimising goal set up. What used to be complex is now straight forward, which will be particularly useful when transactional functions, such as application forms and checkouts, are hosted on a sub-domain or third party site.
Right from the get go, GA4 pre-creates a number of actions and events. Previously requiring manual set up, some default options include clicks, scroll behaviour, transactions, file downloads and a user's first visit. Some form submission and e-commerce goals may not automatically be tracked, but the set up for these is now made much easier, and again requires much less time to implement than previous iterations of GA.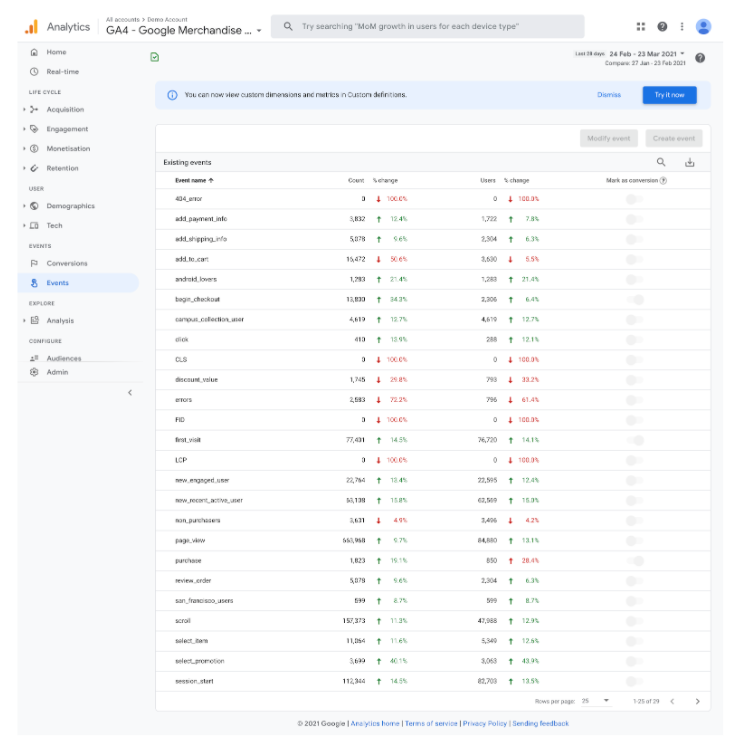 6. Enhanced visualisations and reporting
Whilst a lot of the UI has remained fairly similar within the platform, there are a number of new visualisations and reporting functions. Existing visualisations and firm favourites such as 'Real Time' have been enhanced and made more engaging, but it's the additional reporting visualisations which are a game changer.
The 'Analysis Hub', which features a template gallery with charts which can be created, such as exploration, funnel analysis, segment overlaps and path analysis, is a vast improvement and helps to simplify some more complex cross-dimensional metric reporting.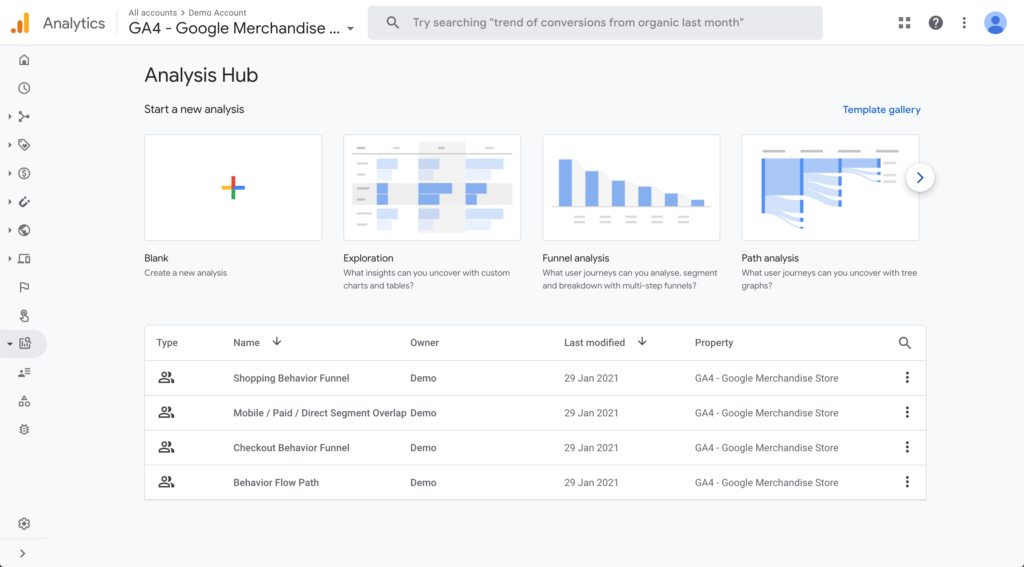 One of the most valuable parts of the 'Analysis Hub' is the reporting by 'Use Case' and 'Industries' which generates templated reports based on typical metrics users would want to see in these areas.
7. A plethora of Parameters
With analytics, having the right data and granularity for certain metrics is absolutely vital to be able to draw value from them. Whilst more data doesn't always mean better data, having the right parameters is a benefit..
For example, in an e-Commerce setting, parameters can be used to attach the value of a purchase, where the purchase was made, the referring URL and the cross-device journey. Most of the dimensions which were available in the old version are still there, but they're made more easily accessible and usable with GA4.
Google explains: "In Google Analytics 4 properties, you can send parameters with each event. Parameters are additional pieces of information that can further specify the action the user took, or add further context to the event. For example, parameters can be used to describe the value of purchase, or to provide context into where, how, and why the event was logged. Some parameters, such as page_title, are sent automatically. In addition to the automatically logged parameters, you can log up to 25 parameters with each event. For a game-style event such as level_up, for example, you may want to add parameters such as level_number, character_name, etc. Or, for a content-style event such as content_view, you may want to add parameters such as article_id, article_title, author_name, author_id, and so on. The reports in a Google Analytics 4 property provide information about the events and parameters that were sent from your app and/or website."
This new and improved GA4 is essentially a re-architecture of the platform we know and love, and the features and benefits are numerous. Whilst it's still in its infancy and is continuously being developed our number one recommendation is to start learning how to use GA4 effectively now to get ahead of the competition and save time in the future.
---
We recently ran a masterclass all about Google Analytics 4. We've embedded the recording below, but if you'd like to find out more about Google Analytics 4, or to arrange a free 30 minute consultation with our Google Analytics IQ Certified consultants, get in touch now.