THE CHALLENGE
We love working with local businesses, so when Brighton i360, a tourist attraction with the best views in Brighton, got in touch to elevate their brand within and beyond the city, we jumped at the chance. With a mission to enhance brand awareness and drive ticket sales within their key target audience segments, we had just the plan to push targets to new heights. 
We devised extensive audience research with creative approaches paired with a killer strategy to achieve the following goals:

1.Increase online ticket sales to 50% of total sales
2.Develop a distinctive creative concept with strong visual identity amongst key target audience segments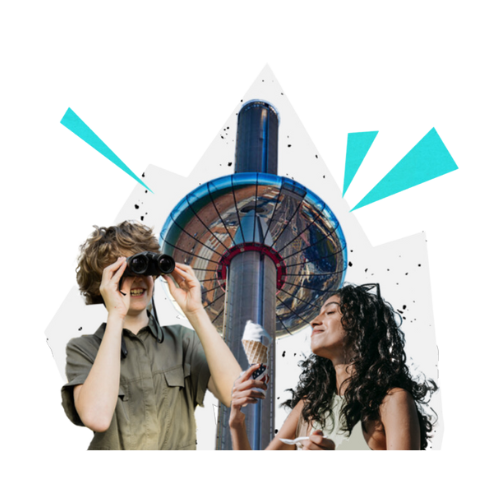 Approach
Brighton i360 wanted to primarily focus on driving ticket sales around young families, couples, and avid sightseers within Brighton and the surrounding areas. Our goal was to spotlight the attraction's tailored experience, and we had just the strategy to realise this vision.
We delved into audience exploration, researching their pain points, desires and needs. Our copywriter ventured out into the city to gauge the communal sentiments towards the i360. His one-on-one interactions with local individuals, tourists and day-trippers on the vibrant streets of Brighton provided invaluable insights – a snapshot of public opinion that was essential to our strategy.
Using our expert experience in the attraction industry, we suggested a creative approach using paid media to reach potential adventure seekers and skyrocket i360 to success.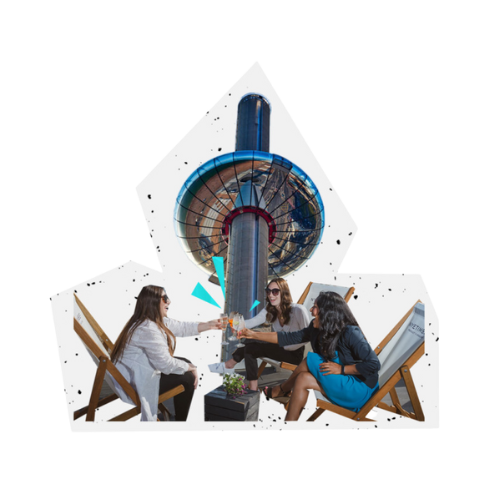 CREATIVE CONCEPTUALISATION
Through collaborative ideation, crafting creative concepts and moodboards, three distinct ideas emerged. The chosen concept reimagined the city's essence from a new vantage point – 'A Different Perspective', encapsulating Brighton's unique charm. Using the sky and clouds, playing on the fact that the i360 takes passengers on a journey 450ft into the clouds, morphed into different shapes that resonated with that audience, we captured the breathtaking views of Brighton and its wonderful, lifeful moments from an elevated standpoint. We focused concepts around each audience, such as, engagements for couples, a day out for families and an immersive experience with memories and unforgettable experiences for sightseers.

We also explored other ideas, including two based around augmented reality. Playing around with AR app possibilities and Snap's AR glasses, we developed interactive ideas that would consume the customer with a fully integrated digital experience.

After presenting the concepts, the client agreed that  'A Different Perspective' hit their brief and wanted to explore this further for the paid media campaign.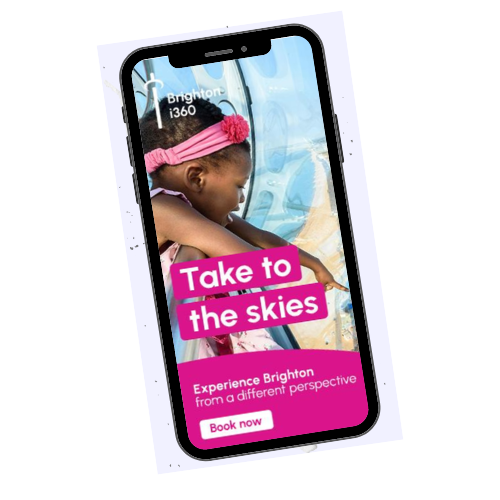 MAKING THE MEDIA MIX
Recognising i360's core identity and wide audience appeal, we proposed a video-focused strategy for maximum brand impact. We kicked off by storyboarding ads aligned with our creative concept, tailoring segments for each audience.
Working with a local production company, Be The Fox, we wasted no time in starting to shoot content for our campaign. Our conviction in the potency of video ads was strong, and a pivotal element of our creative direction was the film shoot itself. We hired actors and got into action, focusing on the themes of a magical day out for you and your family and tailored this to each audience within the film.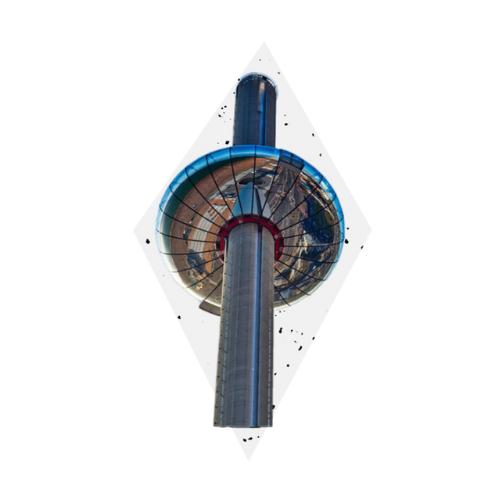 Using different actors for each audience segment, we highlighted the essence of each of their desires we found within our research, showcasing the i360 and the sights of Brighton it has to offer. With us as directors, their cameras rolled as we unveiled the story's essence, optimising for various platforms by shooting in square and portrait formats. We highlighted classic Brighton themes that resonated with our audience during the research phase, such as ice creams and the beach, showcasing all the i360 had to offer. The result was a captivating two-minute advertisement, a fusion of imagination and possibility, family appeal, and the i360's charm as a tourist attraction.

From this, the next step was the creation of the adverts to showcase the video. The messaging framework emerged, and we specifically focused on paid copy. Playfully centred on elevation, our language was vibrant, invoking sunsets and breath-taking views. The tagline "Wonder of the World" encapsulated our strategy, adapted for each audience segment.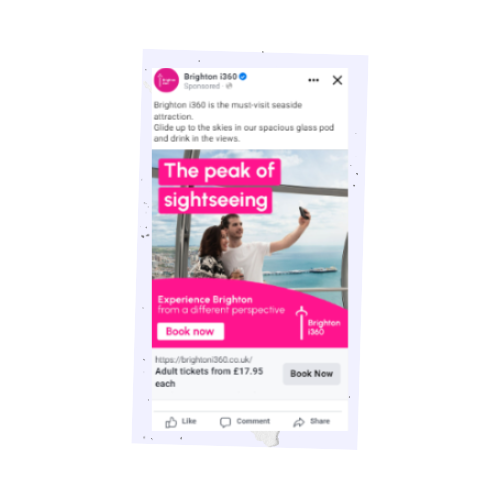 LAUNCH AND MEASURE
For the launch of our media campaign, the first step was to raise awareness of i360 among the target audience. For this, we led a video-first approach, using Snapchat and TikTok as our amplifiers. The campaign primarily targeted three distinct, non-overlapping audiences, ranging from a hyper-local demographic to those on the outskirts of North London. For engagement, we devised concise Snap and TikTok clips extracted from the initial video. These snippets captured the excitement of couples, families, and sightseers as they anticipated their i360 experience. The initial emphasis was on video for heightened awareness, allowing us to establish video viewer retargeting audiences without relying on third-party cookies.
Moving down the funnel, we generated intent with search and meta. Navigating search proved to be a highly competitive space, contending with formidable local attractions and third-party ticket vendors for i360, including large companies with substantial budgets. However, we identified a strategic gap – our competitors focused heavily on bidding for their own brand terms. To ensure conversions were truly incremental, we orchestrated a significant shift in spending. Our approach pivoted toward broader, generic terms such as "experiences in Brighton," "family days out," and "things to do," thereby enhancing our conversion tactics.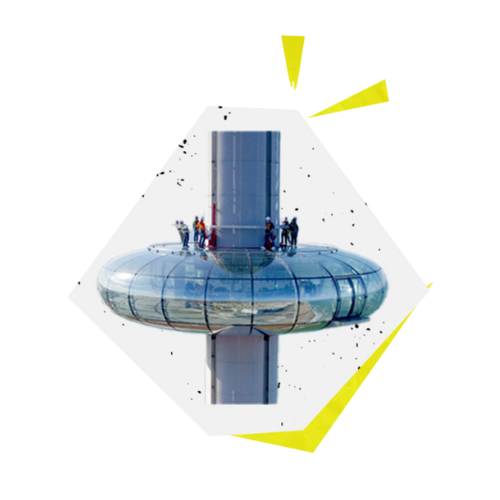 To amplify our efforts, we implemented retargeting strategies across Facebook, Instagram, and Google Display. This involved honing in on individuals who had exhibited high engagement with our videos during the awareness phase. Additionally, we targeted site visitors who hadn't made a purchase within the preceding 90 days, ensuring a focused re-engagement approach. We also set our sights on those who initiated the checkout process but didn't complete their purchase, aiming to rekindle their interest and steer them toward conversion.

Seeing the initial success of the campaign, Brighton i360 allowed us to expand its scope, focusing on the 'adventurer sightseers' audience. Originally launched as an awareness campaign, the campaign's impressive performance indicated the opportunity for growth and led us to further enhance and develop the "Extreme 360" attraction within i360 when it first launched.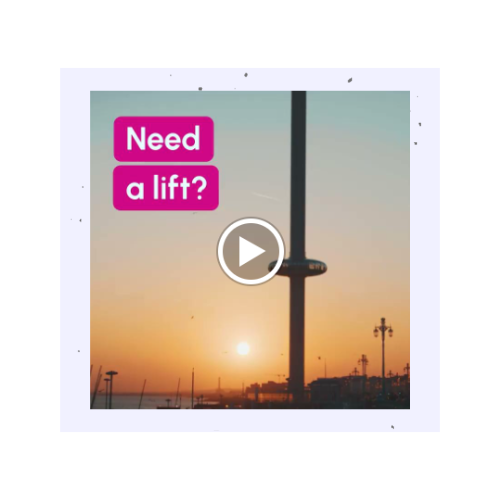 RESULTS
With our boundless creative energy and elevating strategy, we propelled i360 to unprecedented heights of success with a +603% ROAS – a great result for a short campaign in a competitive industry. The campaign yielded remarkable results, culminating in revenue surpassing a quarter of a million (£225,992.07) – with an impressive average order value of £46.53. This was complemented by a total of 4,857 transactions, a testament to the campaign's efficacy in driving engagement and conversions.

Due to the success of the campaign, we were also tasked with amplifying its brand further. We crafted a campaign to ensure its appeal as a summer attraction extended seamlessly into the winter months through a captivating Christmas Santa campaign.

By adeptly tailoring our strategy to the changing seasons, we continued to draw in visitors during the festive season. The Santa campaign proved to be a resounding success, achieving an exceptional Return on Ad Spend (ROAS) of +994%. This accomplishment underscored our ability to pivot and engage audiences across different contexts, further solidifying i360's position as a dynamic and year-round destination. Related work