The Challenge
In the build up to Black Friday, leading luxury fragrance company Shay and Blue wanted to increase their mailing list to enhance their targeting pool (and capabilities) in the lead up to the big day. 
Shay and Blue have a loyal customer base with high retention rates, as a result of their excellent customer service and their eclectic mix of fabulous, planet friendly fragrances. As such, they required a campaign that would encourage new customers to sign up to their mailing list so they could build up their invaluable database for retargeting in subsequent campaigns.
To help Shay and Blue with their marketing and sales strategy amid this crucial period in the e-commerce calendar, our Paid Media and Creative teams came together to strategise an innovative campaign that would:
Attract and engage new customers to build their database

Remind existing customers of their brand and their products

Increase brand awareness and sales around this key sales period
‐.‐. …. .‐ .‐.. .‐.. . ‐. ‐‐. .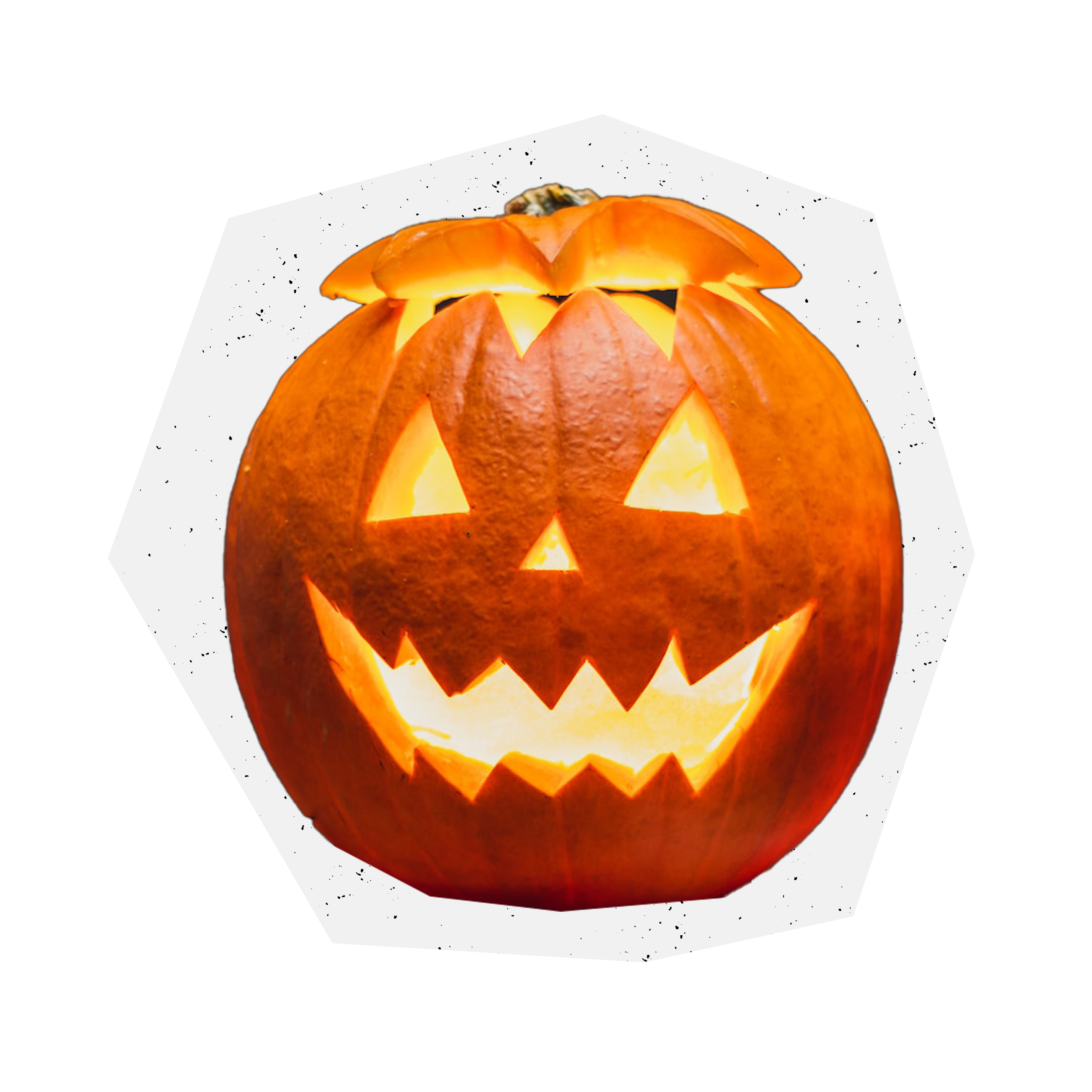 The Strategy
Our Paid Media and Creative teams devised a full-service approach that would connect the dots and create a seamless experience between Shay and Blue's adverts and their website; while creating something that caught their audience's attention. We took advantage of the season – Halloween – to add a spooky spin on Shay and Blue's pre-existing adverts.
We developed an awareness campaign across Google Display, Facebook, Instagram and TikTok that would turn Shay and Blue's signature Blood Oranges fragrance into a seasonal version perfect for the time of year, resulting in 'Bloody Oranges'! 
The campaign saw Shay and Blue offer a free 10ml version of their scent (typically £25) – customers just had to pay for shipping. 
Shay and Blue's target audience were served the ads on social media. Once clicked, they were taken to a Halloween landing page on Shay and Blue's website where they would complete their transaction.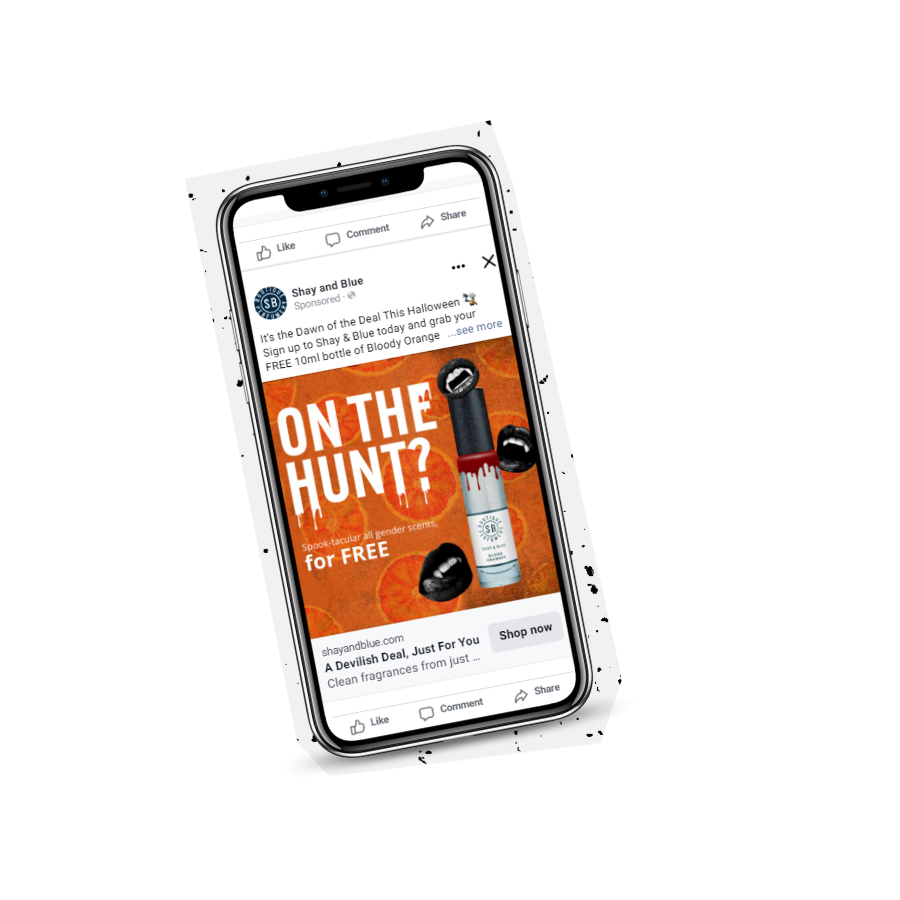 The Strategy Continued
Our copywriting team worked closely alongside our designers and paid media experts to craft copy that was topical, playful and enticing both within the design of the ad, the headline and the supporting copy. 'Slash through the sales', 'A devilish deal, just for you' and 'Frighteningly free fragrance' are examples of these.
'At Arke, we take the time to research our client and the strategic aims of the campaign that feed into their wider goals. As such, we aligned the copy with Shay and Blue's value proposition from product family, to product, to emotional value. This was evident throughout the campaign, from initial response to the advert to their experience when on the website.'
– Jacob Lowery, Copy and Content Executive at Arke 
Our creative process was no different; we leaned into Shay and Blue's branding – crisp, clean lines and their signature colours. However, we were given the creative license to intensify their branding for the season. We used bright, impactful colours to transform their always-on ads into refreshed Halloween versions. This helped to create excitement around the product.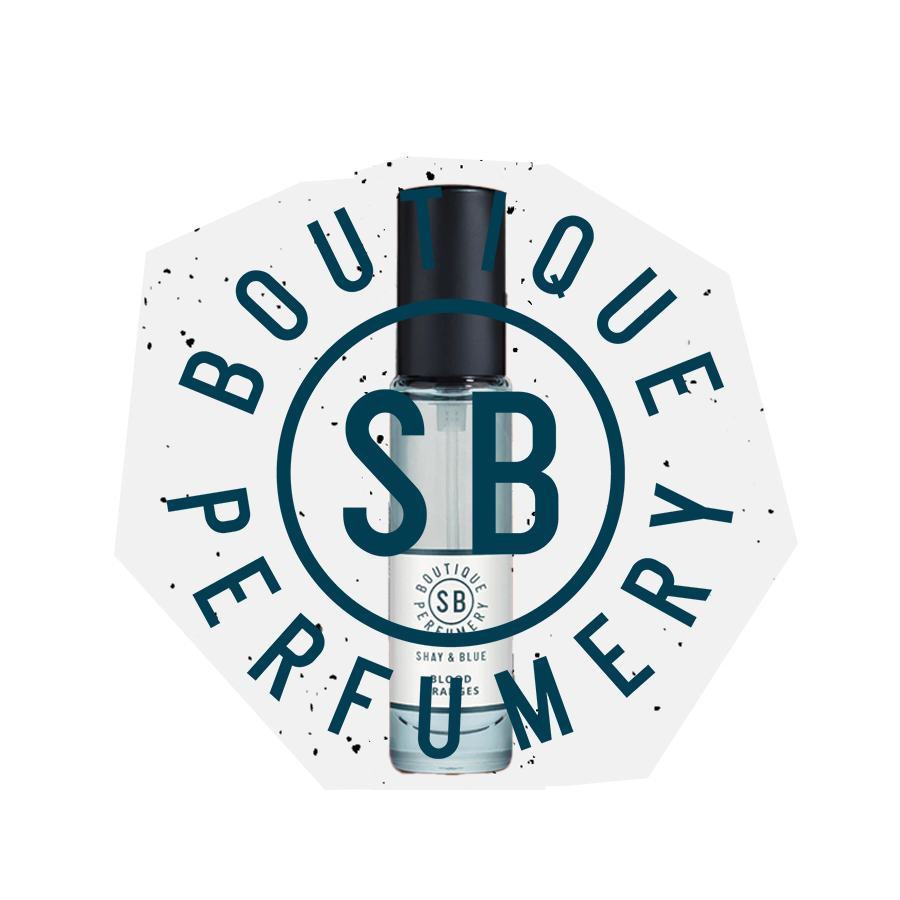 The Strategy Continued
In order to increase the number of contacts and customer data for Shay and Blue, customers were asked to submit their phone numbers and email address when checking out. After this, they were sent a Whatsapp message and email confirming their purchase. The purpose of this was to keep Shay and Blue top-of-mind among their target audience as they moved towards Black Friday. It would also provide multiple platforms of targeting to feed into the cross-channel approach we have planned, as well as a direct channel for customer service, improving the overall buyer experience.
This provided Shay and Blue with an opportunity to follow up with customers and their orders via email and text, enhancing the customer service experience. 
Having worked with Shay and Blue on various campaigns throughout the year, we understood their audience, their aims and how to achieve them. As such, our team pulled together a short-burst strategic campaign for Halloween, aware of the challenges that a tight turnaround, a change of creative, and the duration of the campaign (just three days long) would present. However, we planned this campaign with Shay and Blue's wider objectives in mind.
Despite these factors, we turned around the adverts within two weeks and adapted Shay and Blue's current creative to reflect seasonal trends. We directed customers to bespoke forms on the brand's website to ensure Shay and Blue were able to accurately capture user information once people moved from advert to website.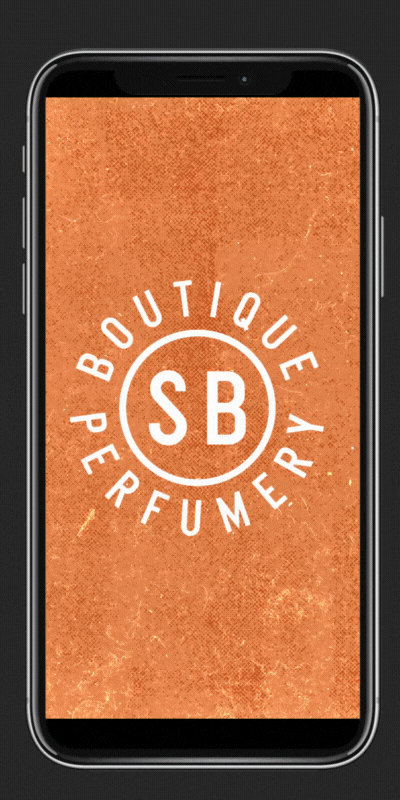 Results
This campaign was highly effective, and the offer was popular among Shay and Blue's target consumer, particularly on Facebook and Instagram. It also had a wider impact, positively affecting overall sales on the website.
From this campaign alone, Shay and Blue increased their conversions by 470%, leading to a total of 585 product sales during this campaign. They also experienced a 470% increase in transactions – providing a larger customer database for subsequent retargeting campaigns, such as during Black Friday.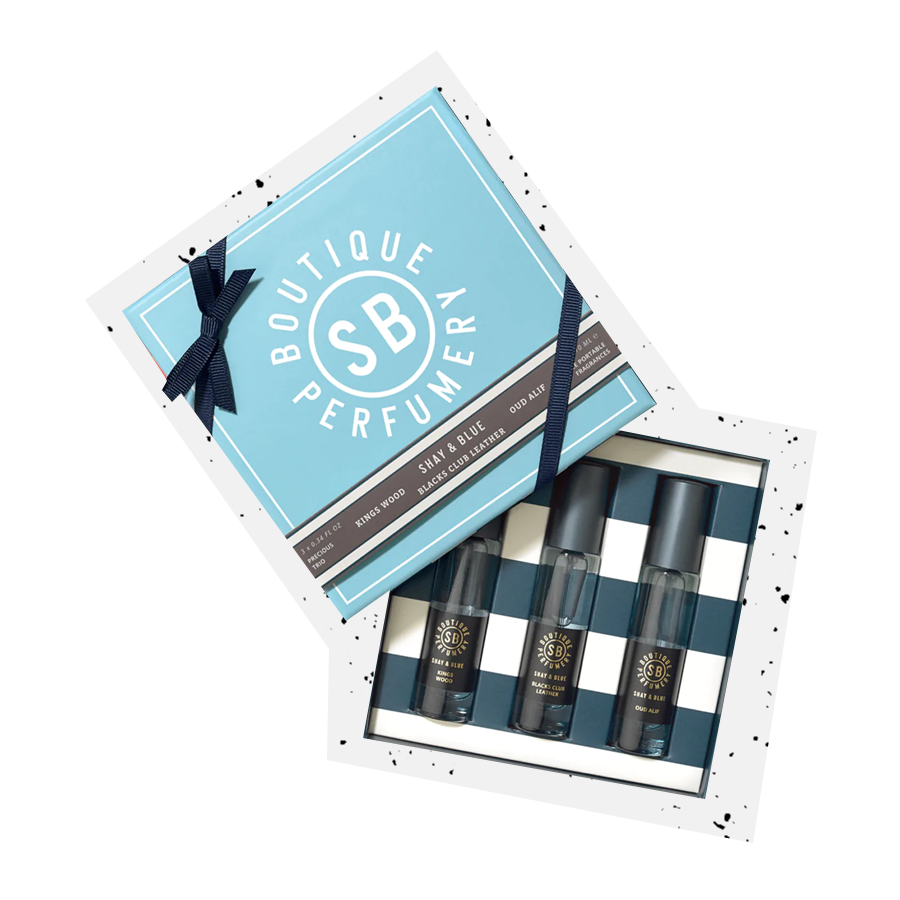 Results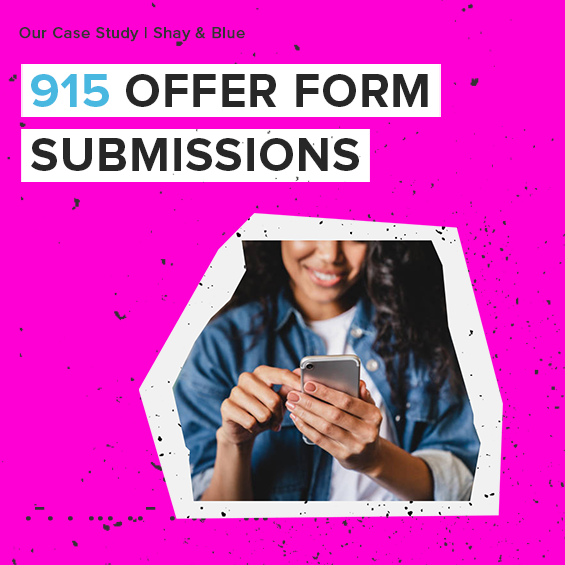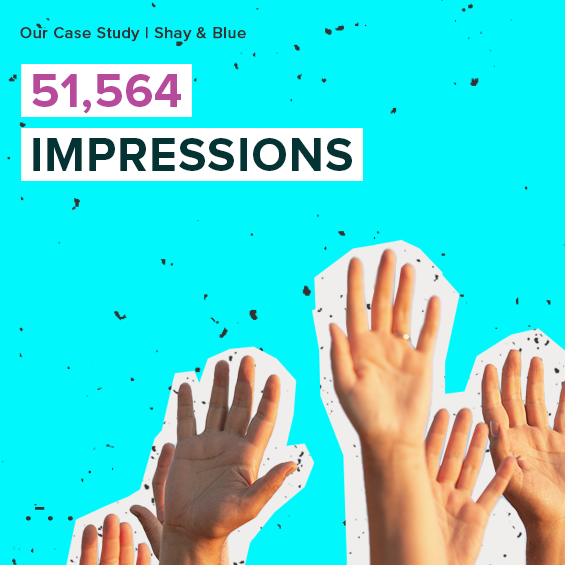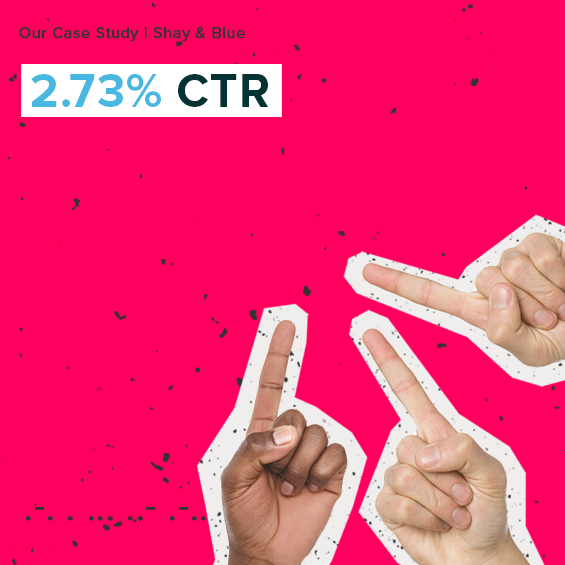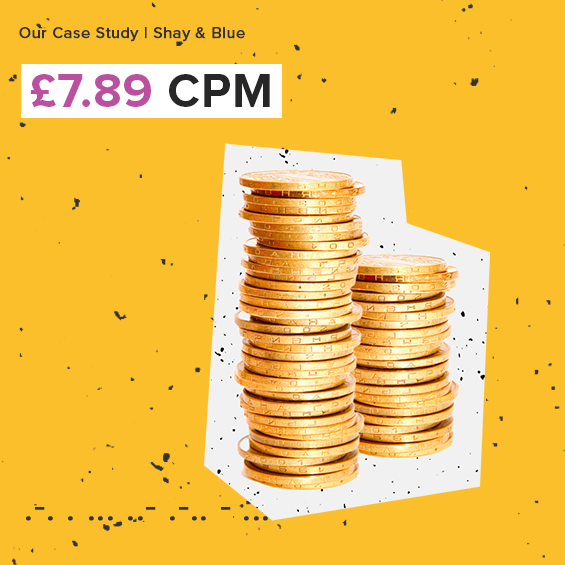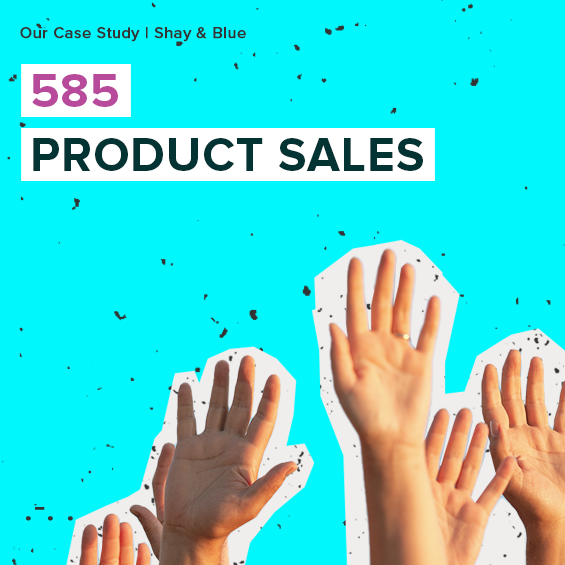 The way Arke has driven and managed this campaign, alongside the results, is exemplary. It has given us the confidence to let Arke lead the way on our future campaigns and determine the direction our paid media needs to go in to truly drive our brand forward.
Managing Director
Shay & Blue
Related work