THE CHALLENGE
In the face of fierce competition from market giants, Joint, provider of premium student accommodation, entrusted us with an exhilarating mission: to amplify their brand presence in newly entered cities following a rebrand. With unwavering determination, we defied all odds and triumphed within a mere three months, not only surpassing brand awareness targets but also unleashing an unparalleled wave of conversions that shattered records.
With the beginning objective to grow brand awareness, we were set the following targets:

1. Earn 3.2 million impressions across target locations
Generate 1,394 enquiries from students looking to book rooms

Produce a 2000% ROAS

Attribute 60% of leads to our paid media strategy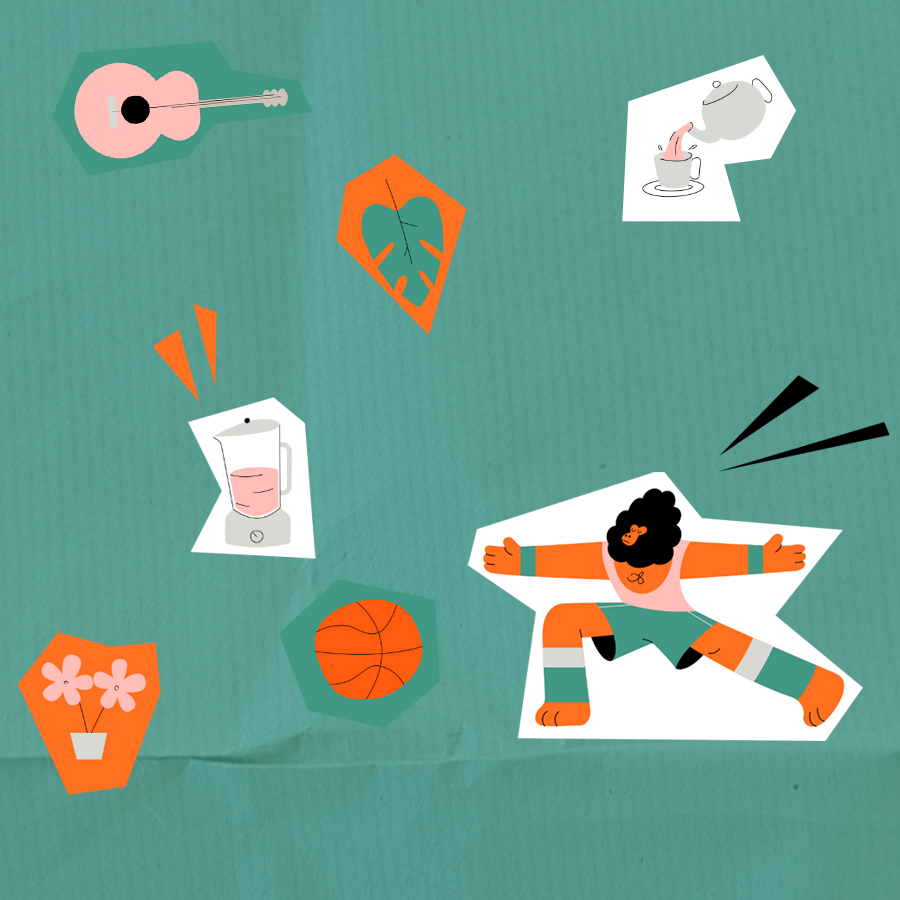 The STRATEGY – WHERE IT BEGAN
Did you know that 60% of the student accommodation industry is dominated by only ten operators? For a young, emerging student accommodation provider looking to offer something new to the market in the form of luxury living and a focus on student support, it was time to break the mould in order to stand out. 
With 2.2 million UK full-time university students and anticipating 17k new beds in 2023, it was time for us to disrupt the market to get Joints name out there following its rebrand.
Previously Big Student House, Joint needed a new website to match their rebrand and to showcase their unique offering. So, we developed a shiny new website, prioritising the user experience (UX) journey, combating previously complex updates to make it an easy and smooth process to make changes. As well as this, we introduced a 'tenant tab' section on the website to accurately represent Joint's core values, optimising the overall site experience and to help improve ad quality score for the next step of the project. Not only this, but the new section also enabled Joint to be able to really connect with their tenants, providing a wide breadth of support from mental health to even meal plans!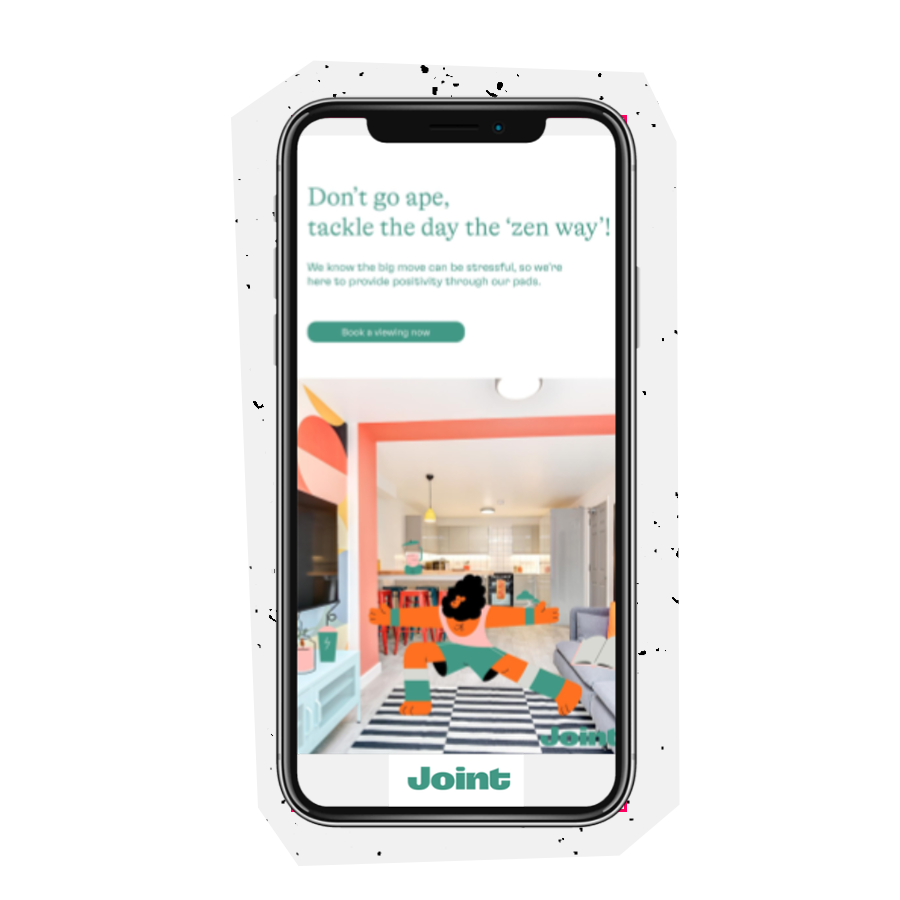 Once the brand spanking new website was live and showcasing Joint's exceptional portfolio of rooms, we started to map out individual student journeys and customised landing pages with precise tracking mechanisms. This seamless connection of ads, landing pages, and property information catered to specific needs.

But we knew it was super important for us to make Joint stand out from the crowd. To do this, we took a research-led approach and found through cross-city analysis of the housing market that ads took a uniform approach that are lifeless, uninspiring and not personalised. Using our power as a full service agency, we wanted to turn advertising on its head – and did just that.
We used Joints previously created characters and gave them life with carefully curated messaging frameworks. Injecting the personalities into properties, we evolved characters into a story within the journey. Once clicking on an ad, the respective character would take the student on a journey through the website, honing in on Joint's presence for their tenants in all aspects of student life.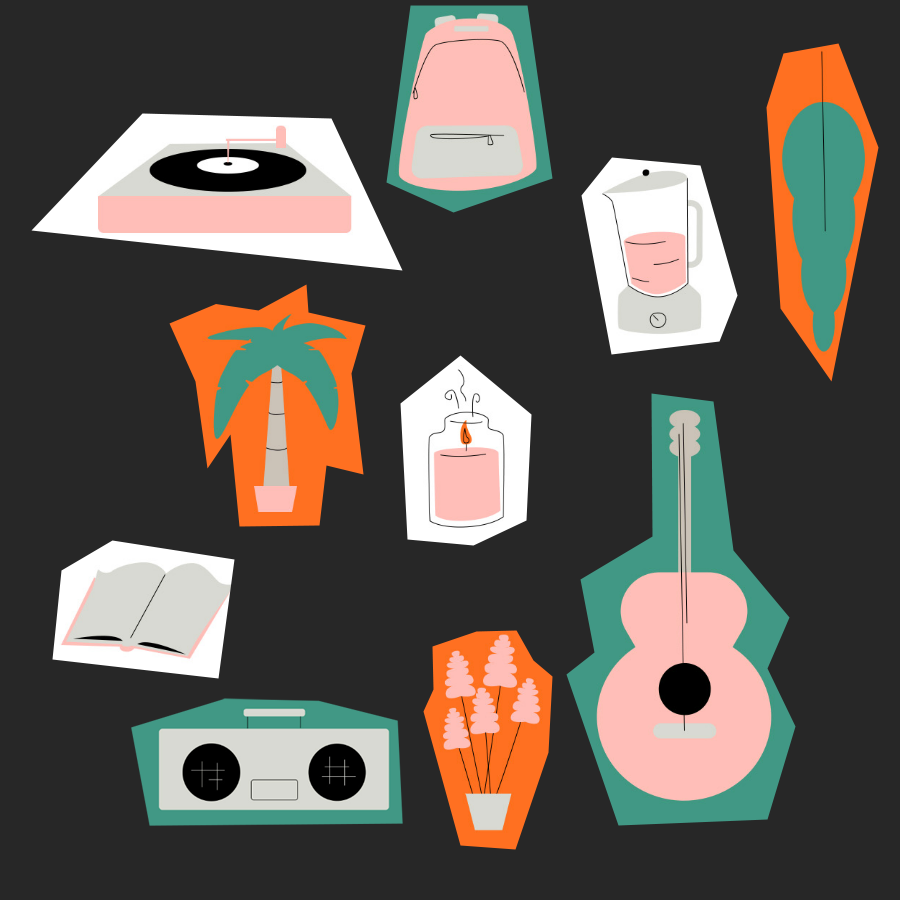 The Strategy – TAKING IT TO THE NEXT LEVEL
Once we had foundation in the website and creative assets, it was time to launch our strategy across advertising real estate. Utilising TikTok, Snapchat, Facebook, and Instagram, we found students amongst their favourite platforms, effectively reaching Joint's operating cities, engaging precise audiences. As paid media experts, we strategically set ourselves apart from the crowd, tactically bidding to enhance our presence near campuses, connecting with first and second-year students through Display and Search ads. 
But we didn't stop there, we wanted to level up even further. In a novel approach, our broader UK strategy engaged individuals who were in, regularly in, or who've shown interest in the target locations. Utilising one of the Google Ads location targeting options with people in or regularly in Joint's target locations. Diving into the luxury of layered interest targeting, we focussed on identifying students who were in their first or second years of university who were actively in the market for student accommodation or researching suitable places to live. Not only this but we targeted people actively searching for Joints target city locations.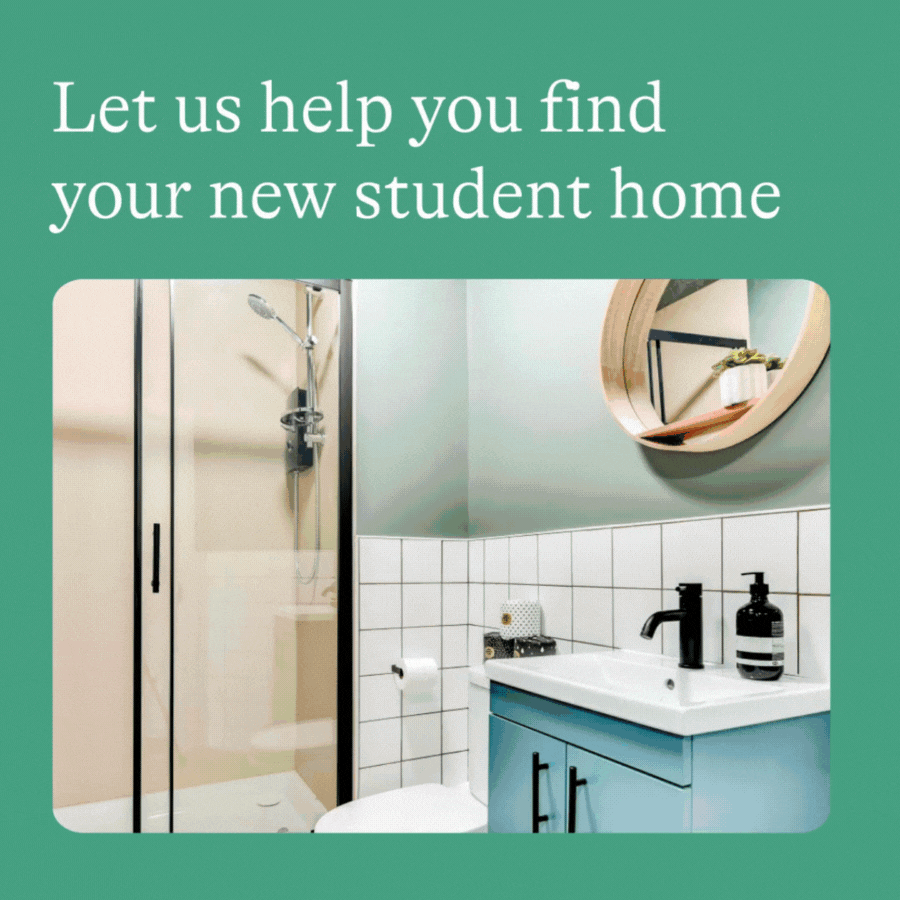 We retargeted people who browsed property page views but had not yet submitted booking with evergreen content highlighting our freshly created tenant tab. We flourished the content with local tenant discounts, tenant well being support and living tips, keeping students actively engaged throughout their entire journey with us.
Always staying ahead of the curve, we simultaneously used radius targeting of each city to ensure a broad geographical reach with the caveat that prospects around the country will have also been researching each of these cities, in addition to the highly segmented search queries that qualified them for student accommodation. 
We added all countries apart from the UK as negative geographical targets to ensure that, whilst prospects are interested in The Joint's operating locations, they were always UK-based. This allows us to reach students who were already studying in our target locations, but also further afield who were planning a move and looking for student accommodation.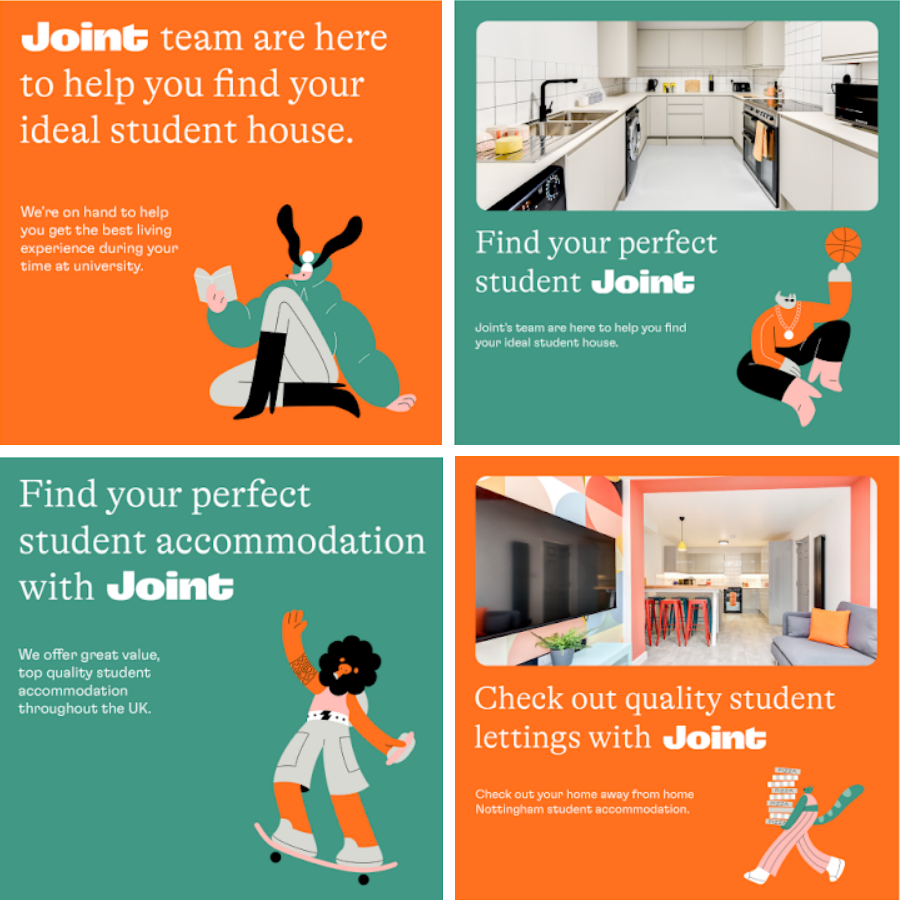 IMPLEMENTATION
In just three months, we sky-rocketed our expectations and hit our targets early! Experts in optimising budget, we shifted our main objectives to a conversion led approach, always aiming to get the most for our clients with the money they have. With brand awareness conquered, we were ready to smash the campaign out of the park, focusing on optimising conversion rates and increasing revenue from bookings.

To further engage students we went beyond visuals, using the characters to reflect student lifestyle around seasonality and relevancy. For example, in winter, we honed in 'staying snug' and well-being due to depression levels being higher in winter. Keeping the key focus on properties, we overlaid characters within the houses, showcasing the high quality rooms whilst bringing personality throughout. 
With our strategic hats on, we optimised cost per enquiry and revenue through data-driven lower-funnel tactics, reducing social media budgets where we had already mastered our audience. To compete with the bulky competition in the housing market, we increased search ad budgets to revolutionise our approach.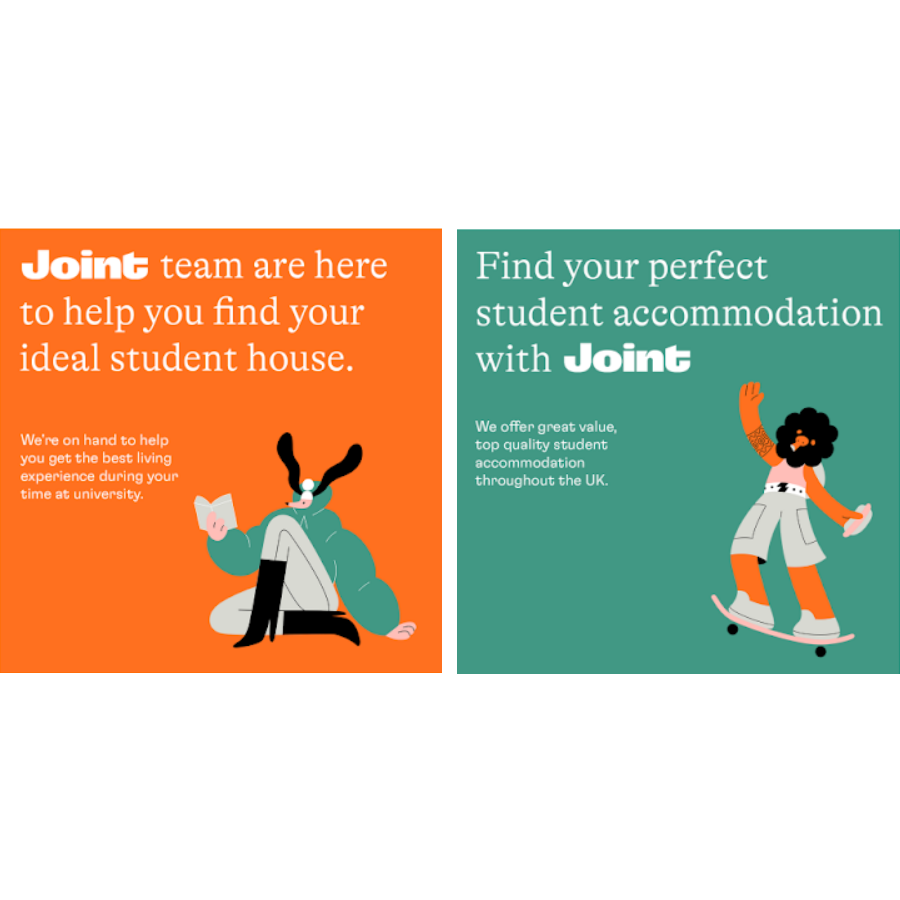 How you ask? Data driven thinking. Integrating HubSpot for real time data sharing, our expert team informed business strategies and optimised bids to students most likely to take action. Understanding the importance of using data to inform decision making, our team was incredibly reactive, allocating budget as and when rooms were booked. This meant we never missed a step, ensuring we were consistently ahead of the curve to get the most out of Joint's budget.
However the journey wasn't over just yet. Budget allocation considered available properties, rooms, and competitor activity, meaning we were always on the ball for what we had to prioritise next. Constant communication between our teams and the client allowed us to influence the student journey to be as seamless as possible, capturing high intent audiences right where we needed them.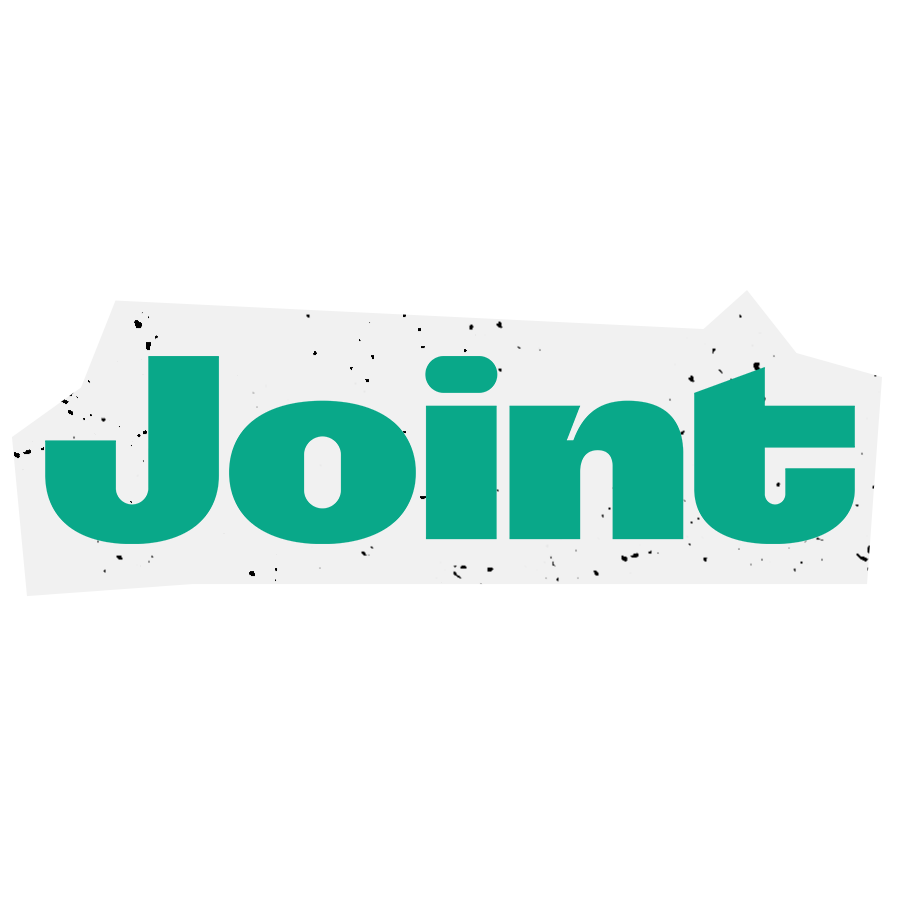 RESULTS
Using just 61% of our media budget to date, we have shattered expectations, with a mind-blowing 3,875% return on ad spend (ROAS) for the campaign. With bookings soaring 40% YoY, the client is now poised to launch 12 new properties across 2 additional cities, 4 months ahead of schedule.
We achieved:
⚪4.9 million impressions (exceeded target by 8%)
⚪18.2k clicks
⚪£0.34 CPC
⚪0.37% CTR
⚪82% of leads attributed to Paid Media in Q1 (22% above target)
⚪40% up YOY on booking targets
⚪3875% ROAS using only 61% of the paid media budget 
The agile budget redistribution across channels enabled us to maximise conversion outcomes and exceed all expectations. More than this, our relationship with Joint has never been stronger, and future plans together never brighter – taking on fun, new advertising initiatives – so watch this space.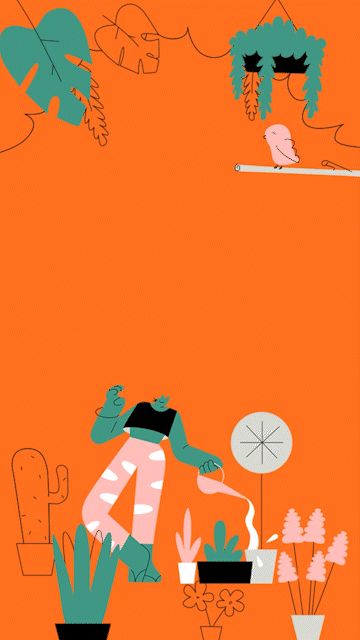 Results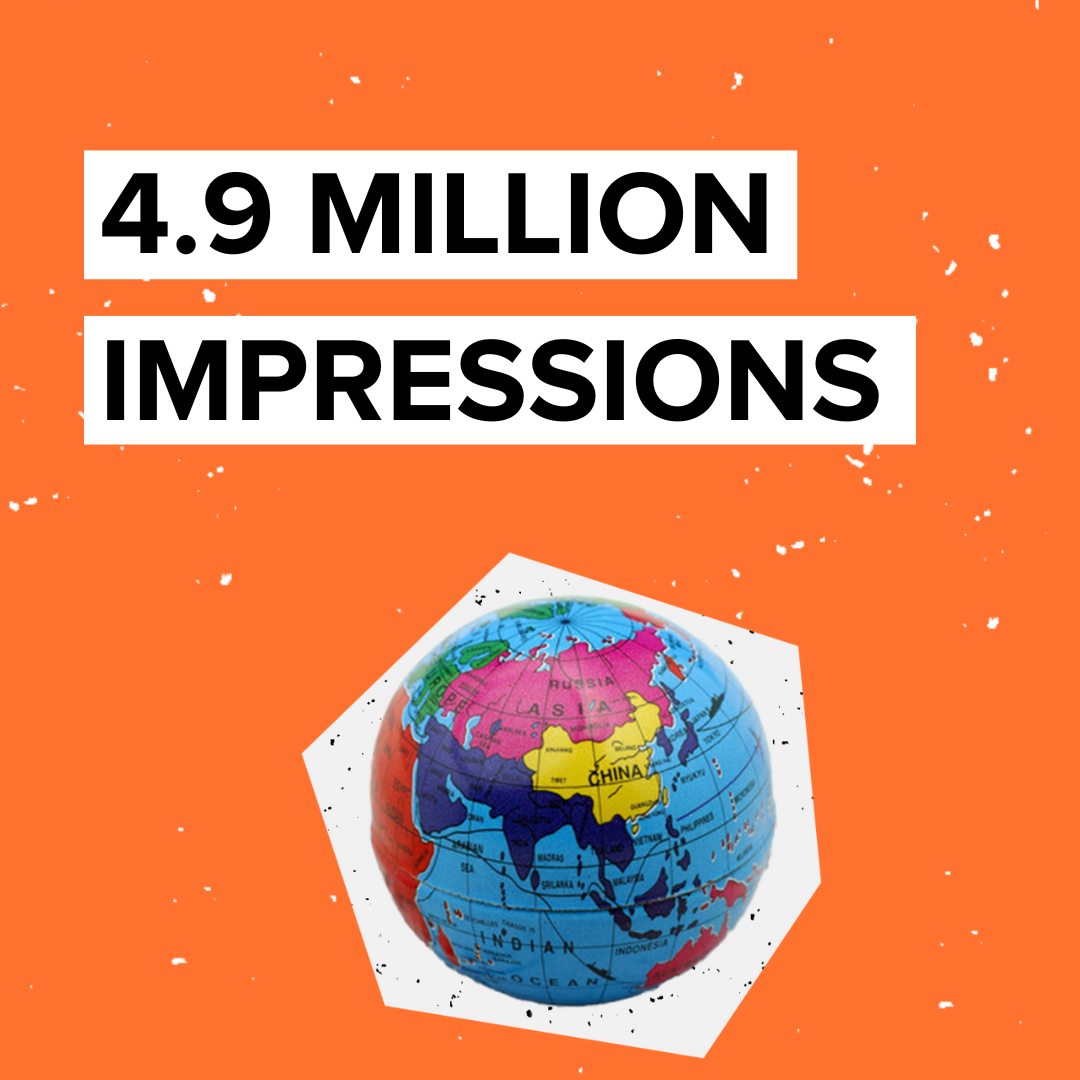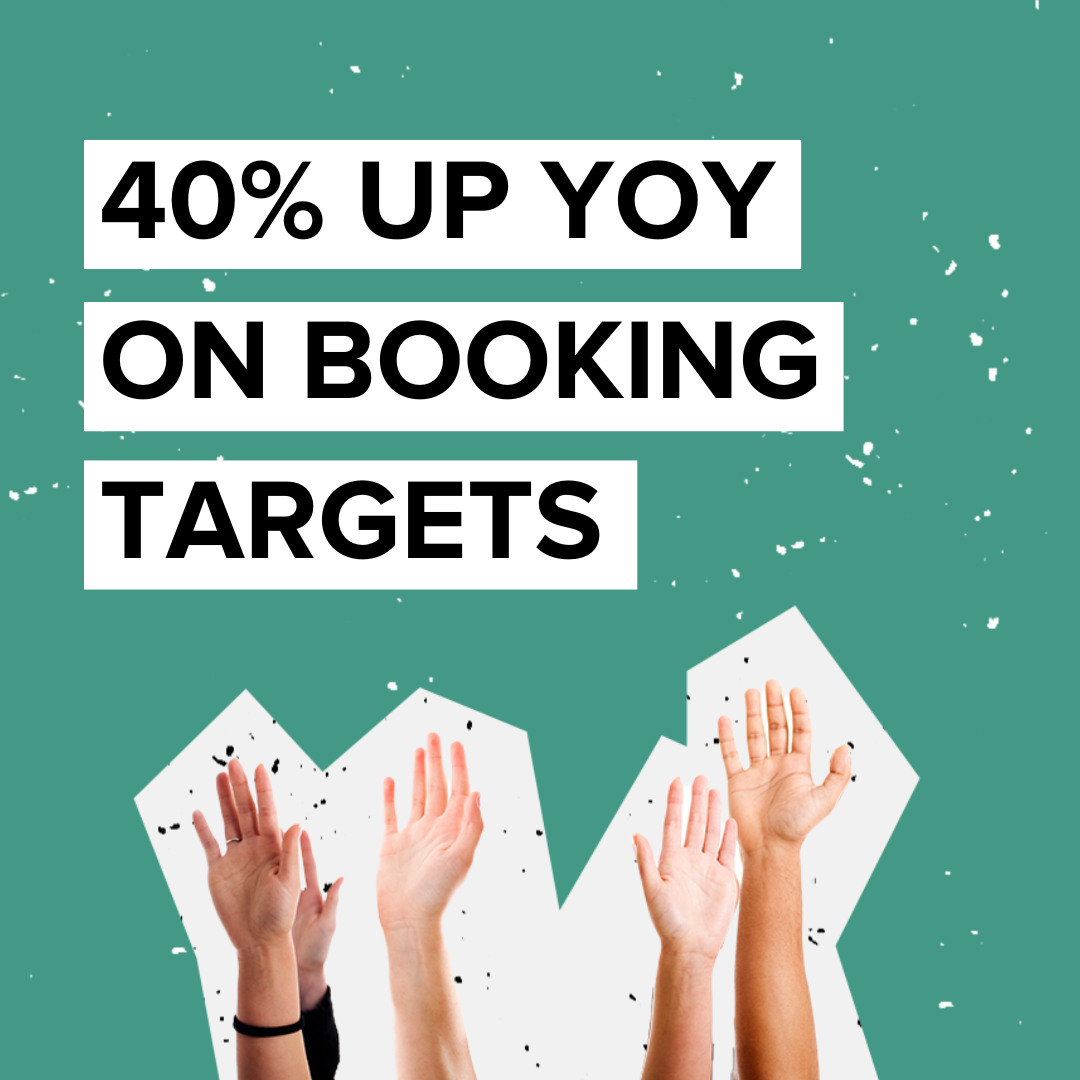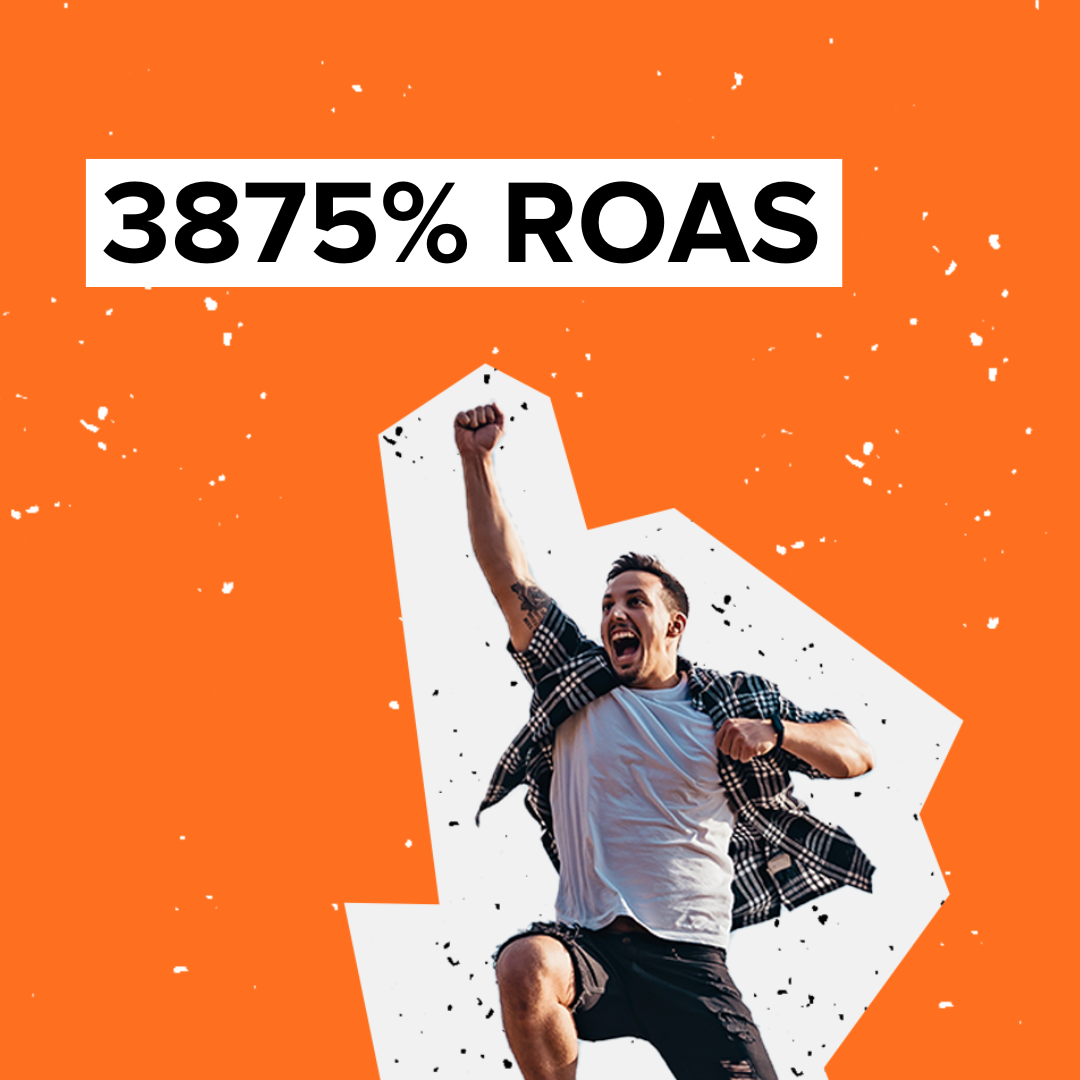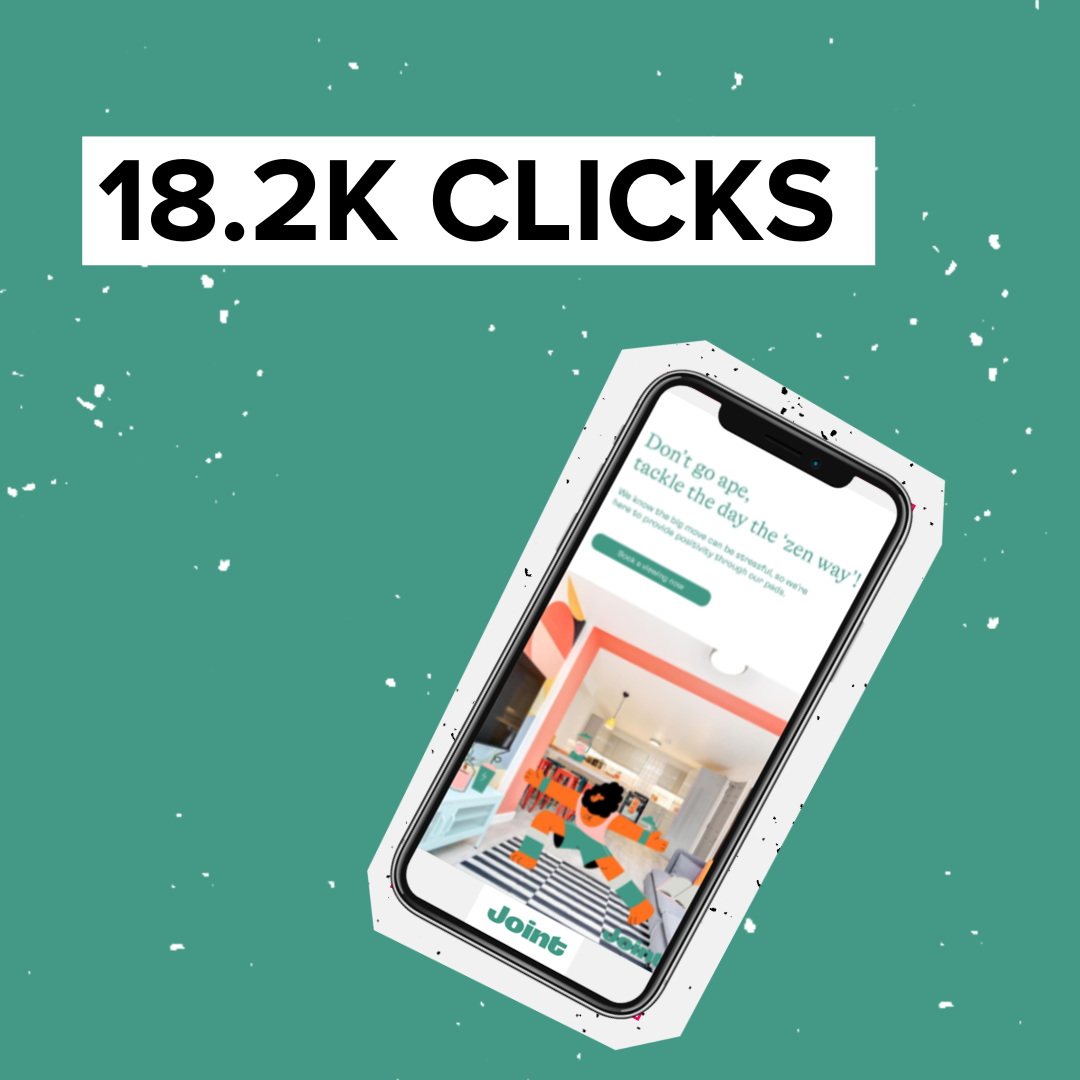 We love how Arke responded to our feedback and approached us with a new campaign concept and library of creative that fits into our wider brand goals. As we have continued to work closely together, the strategic support in achieving our objectives is incredible
Zoe Masterson, Managing Director
Joint