THE CHALLENGE
We've worked with Magus Wealth, the Financial Planning and Wealth Management business, since 2021 to support them with a range of services, from launching their website to an entire creative and brand refresh. 
Magus Wealth approached us because they wanted a full-service agency that could:
Identify core business objectives and how the marketing objectives feed into Magus' ambition

Provide marketing strategy across their brand, with strategic solutions to attract, engage and convert core audience groups throughout the financial year 

Rebrand Magus Private Wealth to align messaging, company position and brand outputs to multiple audiences, creating a consistent brand presence 

Plan, develop and launch a new website to improve the user experience and drive engagement of their services

Generate consistent leads through strategic marketing activities 

Implement and optimise tracking capabilities across all Magus sites

 
So, how did we get on? Here's a rewind of the work we've done so far for Magus, and what we plan to achieve for them in the future.
THE STRATEGY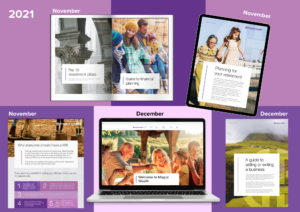 Creative highlight: Guide to Financial Planning, November 2021
Financial Planning is a journey that spans an entire lifetime, focussing on where you are now and where you want to be – it's a road map. Creating this guide was core to the Magus service offering.
Real-life iconography sets this guide apart from the competition. It's an easy-to-read guide, following a carefully curated grid design, peppered throughout with images of real people in situations that readers can identify with. 
'Arke did such a great job bringing our vision to life on this – I love the simple, easy-to-read layout and the lovely imagery. It has proved popular with clients and prospects! ' – Emma Taylor, Head of Marketing and Communications.
Digital highlight: Website launch, December 2021
We've transformed Magus' website into an architecturally beautiful masterpiece, facilitating the user experience and keeping people on their site for longer. 
Clear Calls to Action, menus and fast load times were key to decreasing Magus' bounce rate. In fact, we've reduced the bounce rate on Magus' website by 5.37%, and now people stay on the website for 13.39% longer.
From wireframes to a user-centric design and structurally sound coding, we've made Magus Wealth's website easy to use and even easier to direct potential clients to conversion. 
We also optimised the site for mobile, increasing the user experience and therefore encouraging people to stay on site longer. Before this creative refresh, only 31% of users were accessing the site on mobile devices, but now 52% use mobile devices. That's an increase of 82% in mobile users, a testament to an optimised user experience.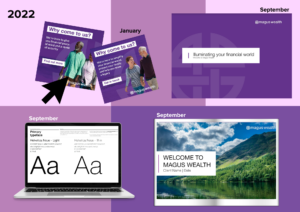 Strategy highlight: Brand Guidelines, September 2022
What is a brand without brand guidelines? Our creative and marketing teams pulled together to produce a guide for all Magus collateral. In doing so, we sought to upskill Magus' internal teams, providing them with a resource that could be used for years to come. 
Brand guidelines form part of a wider brand strategy, creating a consistent, coherent brand image across media. Whether someone is looking at Magus' social media, their website or their physical brochures, they'll instantly recognise the brand because these guidelines create uniformity and increase brand recall. 
Creative highlight: Pitchbook, September 2022
We created the holy grail document of the finance world; The Magus pitchbook. Making Magus' pitchbook stand out, showcasing their services, portfolio performance, values and how they meet clients' needs was no easy feat. 
Primarily for use by the Magus Financial Planners, it's a slide deck that can be tailored to  each individual client's requirements – the Planners simply pick and choose the relevant slides for their client meeting. These slides are key, and can be found on Magus' most used documents. 
Creative highlight: Welcome to Magus, September 2022 
Welcome to Magus is an imperative asset for the business; a brochure that the brand can hand out to prospective clients to encourage a new partnership. This brochure was created to announce Magus' brand relaunch and is an essential document in the new client onboarding process. 
This document offers a more holistic and service-specific look at Magus – their values and their offerings. Within our design, we emphasised the heritage, experience and accreditations, key factors clients consider when choosing a Financial Planning and Wealth Management firm. 
Mike Aitken, Magus Wealth's Founder and Chairman, was thrilled with the Welcome to Magus brochure, stating, 'I've never been prouder to hand out a brochure – it's perfect. Arke has taken our brief and run with it, producing a piece of art that I just want to hand out to everyone – prospective client or not!' 
Results
We fully rebranded Magus Private Wealth to Magus Wealth across their media, from their website to their physical collateral, tone of voice, logo and even their colour palette.
We launched a full website enhanced for optimum user experience and in line with Magus Wealth's KPIs.
We implemented GA4 – migrating Magus Wealth's previous Universal Analytics setup too.
What else?
While we've highlighted some of our work for Magus, it's just a fraction of the work we've done with them. Throughout our partnership, we've also created guides and assets for other collateral. This has included collateral for emails, blogs, business cards and social media banners.
We're so pleased that Magus chose us as their full marketing partner, helping to create a coherent brand image across their platforms. Now we've built Magus a brand they're delighted to show clients and prospects; we're looking forward to increasing Magus' client base through even more creative and digital work and marketing strategies.
What's next for our partnership?
Magus has since expressed their interest in continuing their partnership with us, and we're looking forward to working on an exciting digital project for them in the near future – keep your eyes peeled for the updates!