The Challenge
In the Summer of 2021, set in the midst of a global pandemic and amongst increasing competition in the postgraduate recruitment space, Keele University tasked Arke Agency to:
Drive applications from typically late-applying international markets
Identify new markets to target that were likely to apply for postgraduate education in the UK
Establish brand presence quickly and effectively to convert over a two-month period
Collectively, we were tasked with driving applications from new markets that had not been marketed to before. The students from these markets were, at the time, under international travel restrictions due to COVID-19, with no end date in sight, meaning that they might not even be able to access what they were signing up for. How do you market to them and drive applications, given the uncertainty?
Challenge accepted.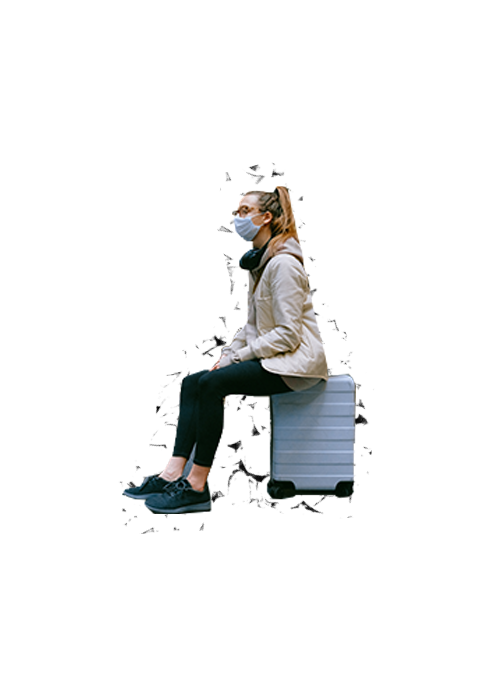 The Solution
We identified 21-35 year-olds currently studying at undergraduate level or recent graduates looking to continue their studies as the target audience.
In terms of target markets, countries were chosen to reflect fast-turnaround Visa applications and those whose university applications calendars were more aligned to that of the UK.
We prospected English-speaking users in key cities within the chosen locations, who were searching for broader 'postgraduate' and 'masters' terms, as well as those of key competitors.
We broadened our reach country-wide to retarget key page viewers and enquirers with 'brand' and 'study in the uk' keywords, supported by incremental traffic driven by paid social campaigns.
We implemented traditional ad-types, including Expanded Text Ads and Responsive Search Ads, alongside Dynamic Search Ads, to increase reach and access long-tail and never-searched-before queries.
We leveraged Keele University's accolades in messaging to cut above the competition in markets with low brand awareness and recognition, and to generate intrigue. We also created a sense of urgency with "there's still time to apply" messaging, as well as tailored messaging to appeal to those displaying intent for international study.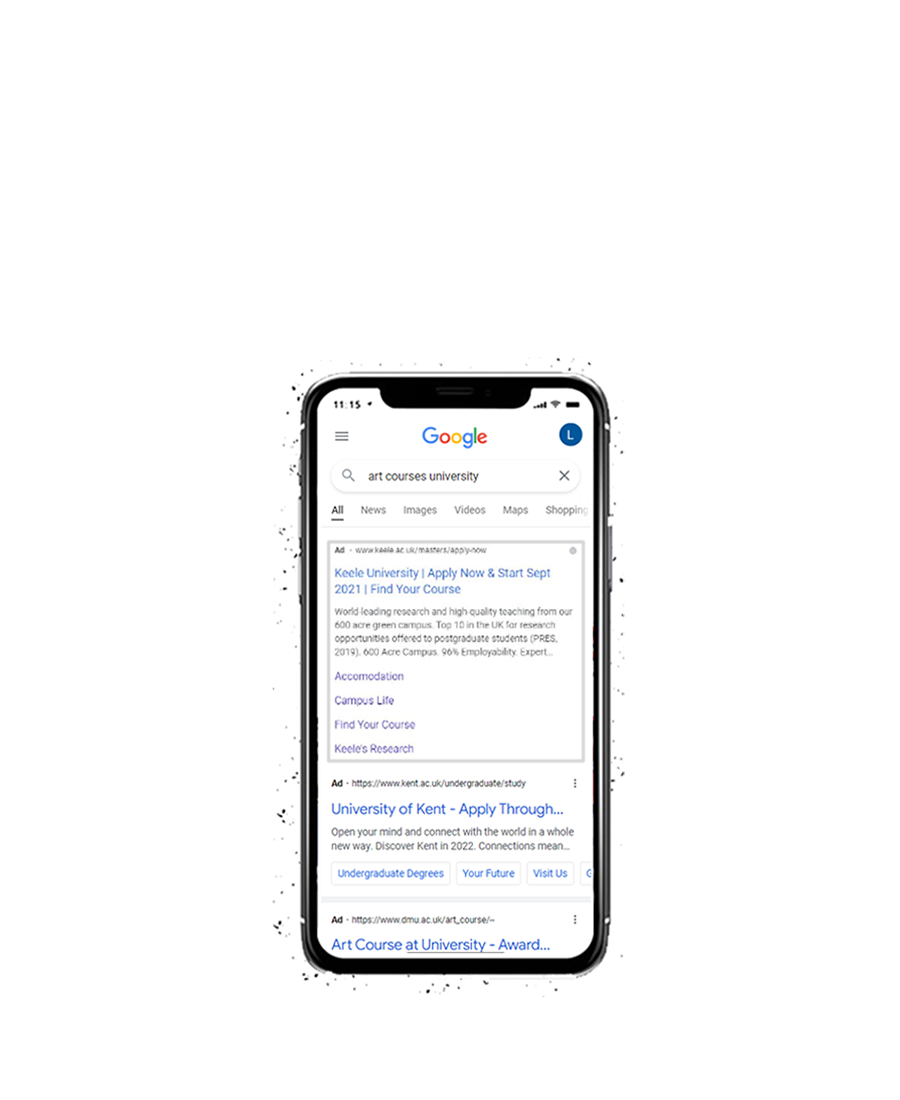 The Solution Continued
Sitelinks included links to softer landing pages to encourage users to explore Keele University and generate touchpoints for exploration and consideration. Key course areas for international postgraduate study were listed as structured snippets. Arke utilised the top performing ad extensions and incorporated them into the build, testing various combinations for various markets.
A data-first bid strategy to teach Google what a successful Keele University postgraduate student looks like was used, leveraging Google's real-time signals to automate bids against the characteristics and traits most likely to convert.
Generic terms generated the majority of conversions, with notably strong performance from broader terms and 'UK' specific keywords.
As mobile devices performed best in regards to CPCs, CTRs, conversion volumes and cost per conversions, Bid Adjustments were set to favour these devices and others were set in line with device performance across the campaign:
Throughout the duration of the campaign, we encouraged a greater balance of conversions from all target markets by decreasing bid adjustments for certain countries and increasing bids for other markets to gain greater diversity of international students.
The outcome?
Not only did we achieve a super high ROI of 2,302% for Keele University, but we also boosted their CTR to 7.3% and reduced their CPC to £0.51. And those weren't the only targets we exceeded for our client; keep scrolling to see what else we achieved with this campaign.
And we even won an award to prove we smashed it out the park; our work was recognised in the UK Search Awards and we were awarded first place for Best Use of Search – Third Sector / Not for Profit.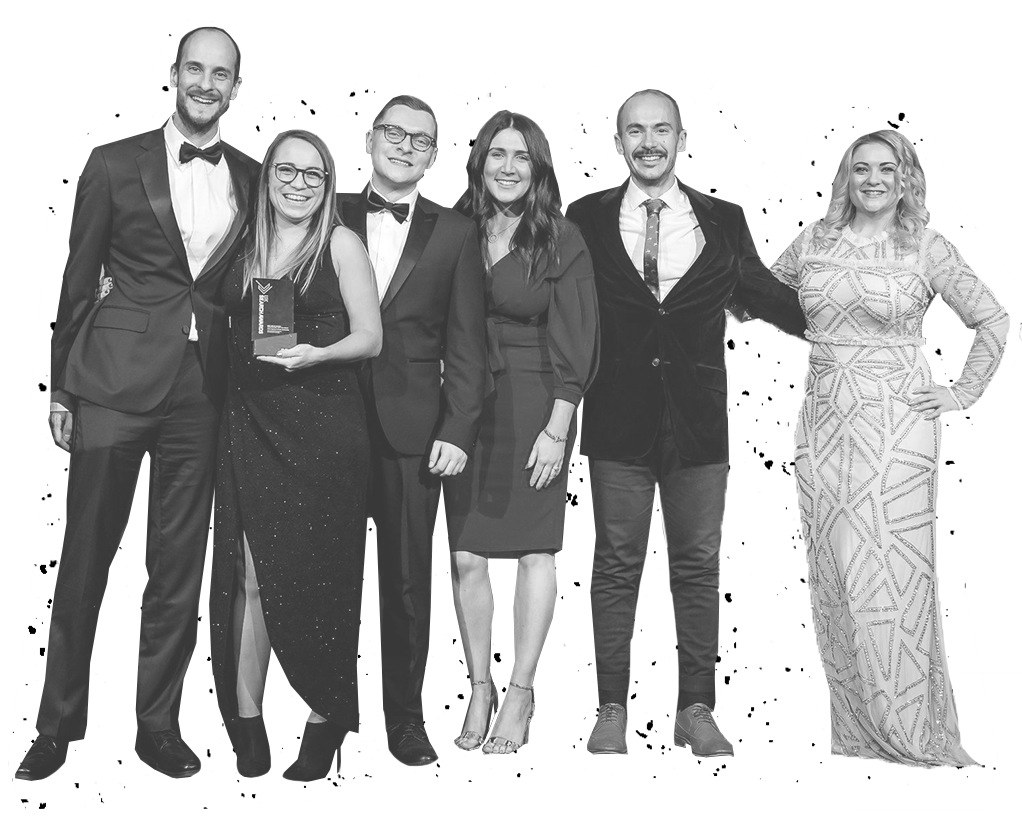 Results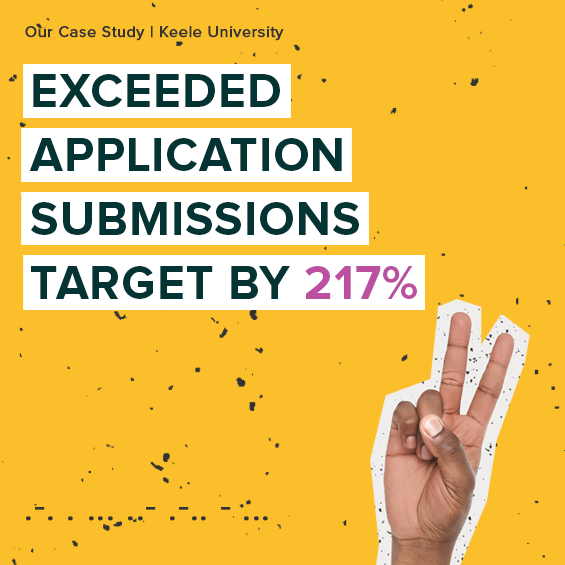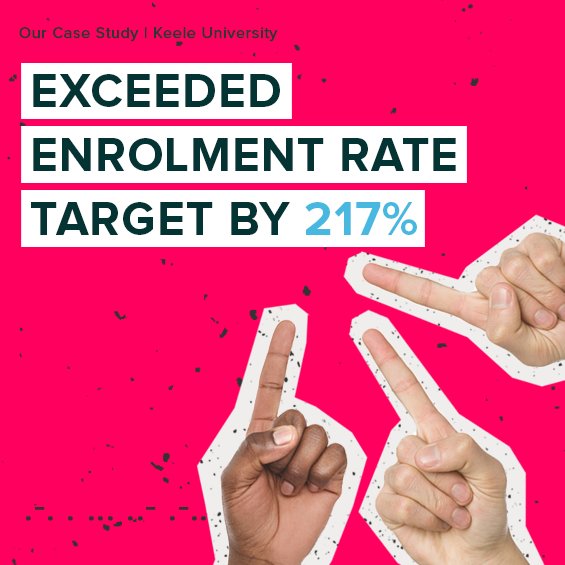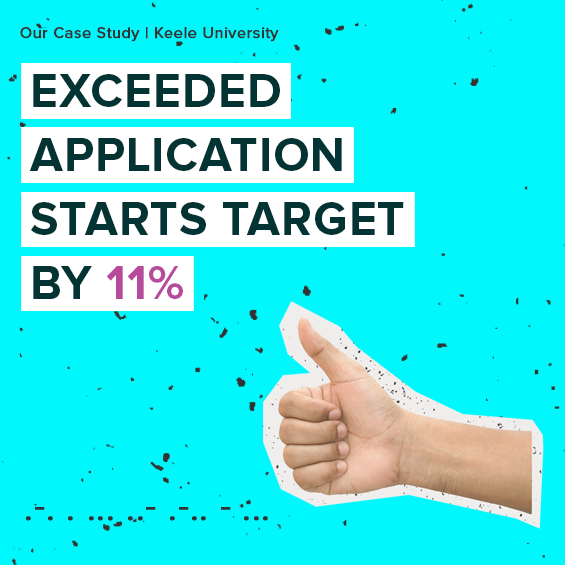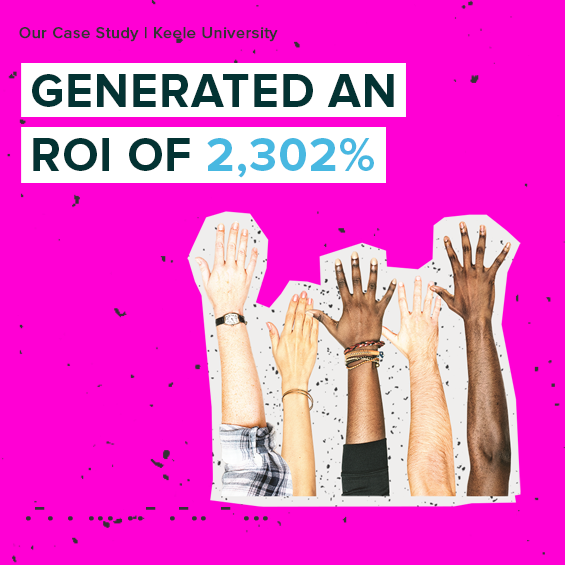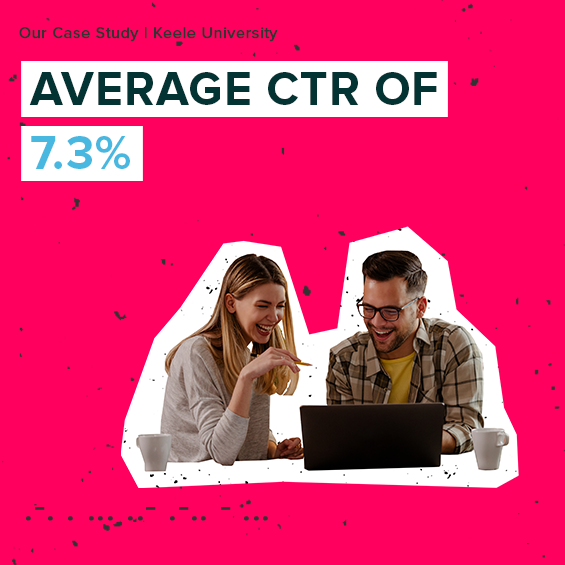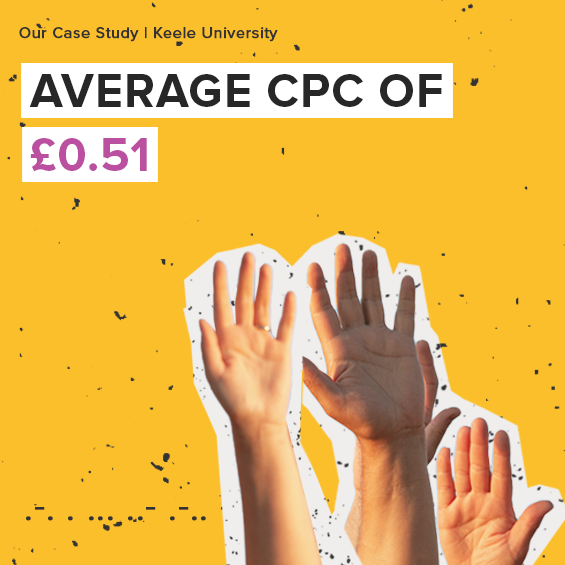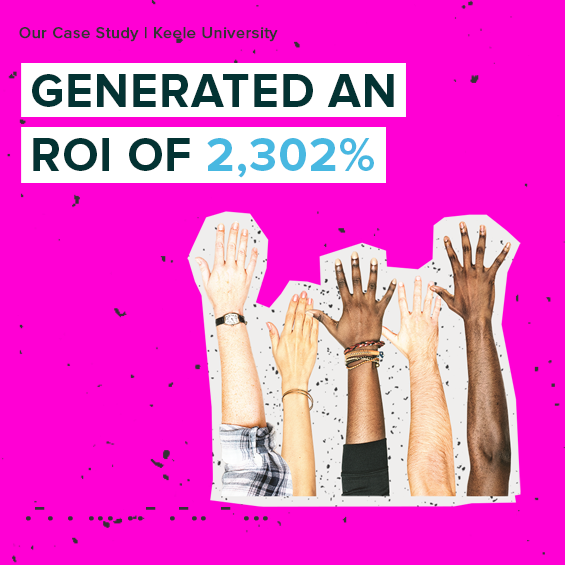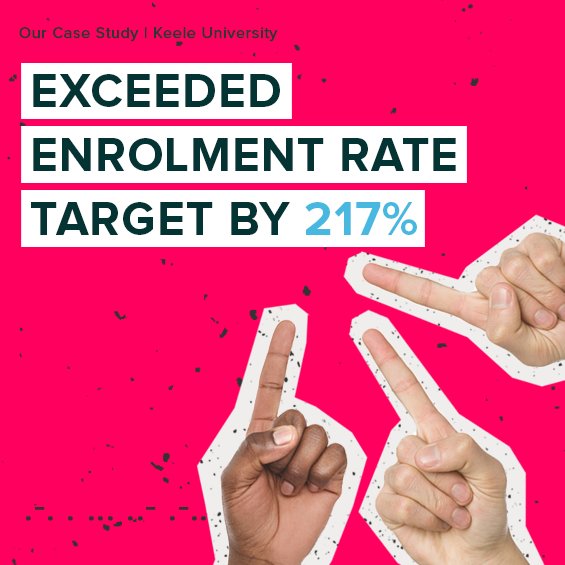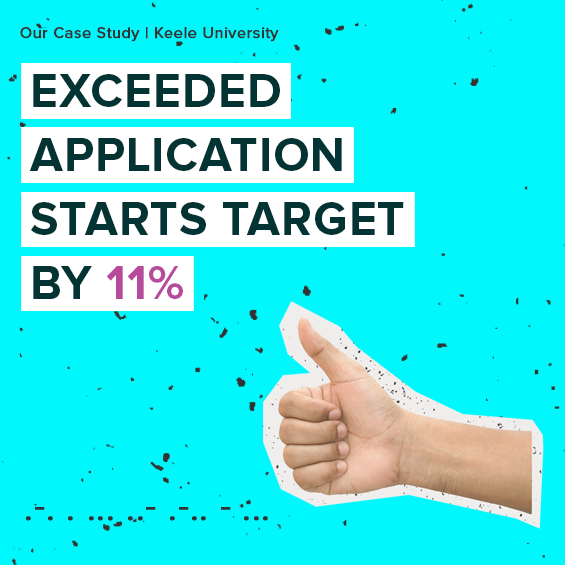 SUPER PROUD TO HAVE WON AT THE UK SEARCH AWARDS 2021. ARKE PRODUCED AN ASTONISHING ROI THROUGH EXCELLENT COLLABORATIVE WORK BETWEEN AGENCY AND IN-HOUSE RECRUITMENT, MARKETING AND STRATEGIC COMMS/BRAND TEAMS.
Associate Director of Marketing
Keele University